Check the British Grand Prix session times, circuit facts, weather report and support races for the Formula 1 event in Silverstone.

F1's coming home. To Silverstone, that is. The spiritual home of Formula 1, the British Grand Prix is set to be a highlight of the season. Not only is it a stone's throw from most teams' factories, but the grandstands are set to be full of fans.
Capacity crowds are expected at Silverstone following the absolute scenes at the Austrian Grand Prix last time out. But while the Orange Army cheered Max Verstappen over the line to full points, the Brits will be hoping to give Lewis Hamilton's title defence a shot in the arm.
Both Verstappen and Hamilton won races at Silverstone last year, so it is very much all in the balance.
To make sure you're on top of all the action, including circuit maps, session times, support series, weather forecast and the latest news from the weekend, check out this guide with all the information you'll need.
British Grand Prix race preview
Important information for fans attending the race
COVID-19 precautions
For entry to the British Grand Prix at Silverstone, you must prove that you have either:
– tested negative with a lateral flow test within 48 hours of attending the event
– received a second dose of coronavirus vaccine at least 14 days prior to the event.
Under 11s can attend without any COVID-19 status or testing.
Lateral flow tests
Lateral flow tests are rapid tests that show the presence of COVID-19 within 30 minutes. They are free to the public and can be ordered here. You must then report your result here. When you report your result, you will be required to have a COVID Pass in the NHS App (not the NHS COVID-19 'Track and Trace' App) which you can show to gain admittance. You will also be sent an email and text, which can be shown at the gates at Silverstone.
Please note: If you are attending all three days of the Grand Prix weekend and are using lateral flow tests, you will have to take tests with you. After 48 hours, you will need to retest. You can report test results using a mobile phone at the event.
Full vaccination
Those who have received two doses of the COVID-19 vaccine more than 14 days ago can attend the event without testing. To confirm this, download the NHS App on the App Store or Google Play. Once registered and confirmed, your COVID status will show, and you can use the app to gain admittance to the circuit.
Fans from Scotland can access their vaccine status here. Fans from Wales can access their status here.
Car parking
The below map shows the car parks at Silverstone, including the M40 and M1 Park and Rides. Using this map, you can find directions to the car park you have booked for. You must book parking before arriving, you cannot just turn up and pay at the car park.
Drivers will also see the one-way system that will be in place between the B4525 interchange and the Abthorpe roundabout on the A43. You should avoid this road unless you are parking at the circuit car park. If you enter the one-way system, it will lead you into the circuit.
Security
Searches will be undertaken at the gate before you enter the circuit. Be sure to arrive in good time and leave plenty of time for these searches.
British Grand Prix F1 session times
The timetable for the British Grand Prix looks a little different to any other. That's because sprint qualifying will be making its Formula 1 debut this weekend. 'Standard' qualifying – that is the normal three qualifying sessions we are used to – has been moved to Friday evening. That's to ensure people watching at home have plenty of time to get home and watch on TV after school and work. A practice session will then take place on Saturday lunchtime, before the half-hour sprint race on Saturday evening.
| Session | Day | Session time (BST) |
| --- | --- | --- |
| Free practice 1 | Friday | 14:30 – 15:30 |
| Qualifying | Friday | 18:00 – 19:00 |
| Free practice 2 | Saturday | 12:00 – 13:00 |
| Sprint Qualifying (17 laps) | Saturday | 16:30 – 17:00 |
| Race (52 laps) | Sunday | 15:00 – 17:00 |

British Grand Prix session times

British Grand Prix weather report
According to AccuWeather, it's going to be a beautiful weekend at Silverstone. While that might be an issue for Formula 1 teams managing their temps, make sure you manage your engine temps by packing a water bottle and keeping hydrated.
| | | |
| --- | --- | --- |
| Day | AM | PM |
| Friday | Mostly sunny, 24°C | Mostly sunny, 25°C |
| Saturday | Sunny, 25°C | Sunny, 27°C |
| Sunday | Sunny, 26°C | Sunny, 27°C |
British Grand Prix weather forecast
SILVERSTONE WEATHER
Race support at the British Grand Prix
It's not all about Formula 1 throughout the weekend. Following two enthralling races in Austria, W Series carries its momentum into Silverstone. F2 will also return into action as it hits the halfway mark of the season, and there will be GT Masters action, too.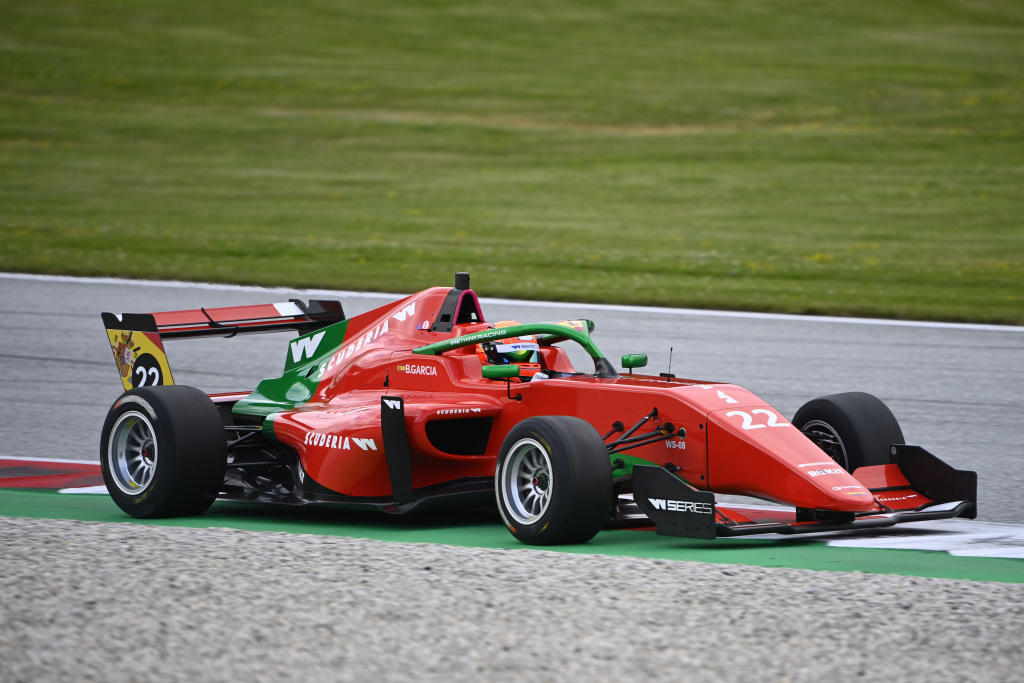 W Series
After a difficult start in race one, Jamie Chadwick is back at the top of the drivers' championship as she looks to defend her inaugural title. She was taken out by Aston Martin ambassador Jessica Hawkins who will be in action alongside Alice Powell, Sarah Moore and Beitske Visser. Check out our article on W Series to find out more about the championship.
| Session | Day | Session time (BST) |
| --- | --- | --- |
| Practice | Friday | 09:40 – 10:10 |
| Qualifying | Friday | 15:55 – 16:25 |
| Race (30 minutes + 1 lap) | Saturday | 13:25 – 14:05 |
W Series session times at the British Grand Prix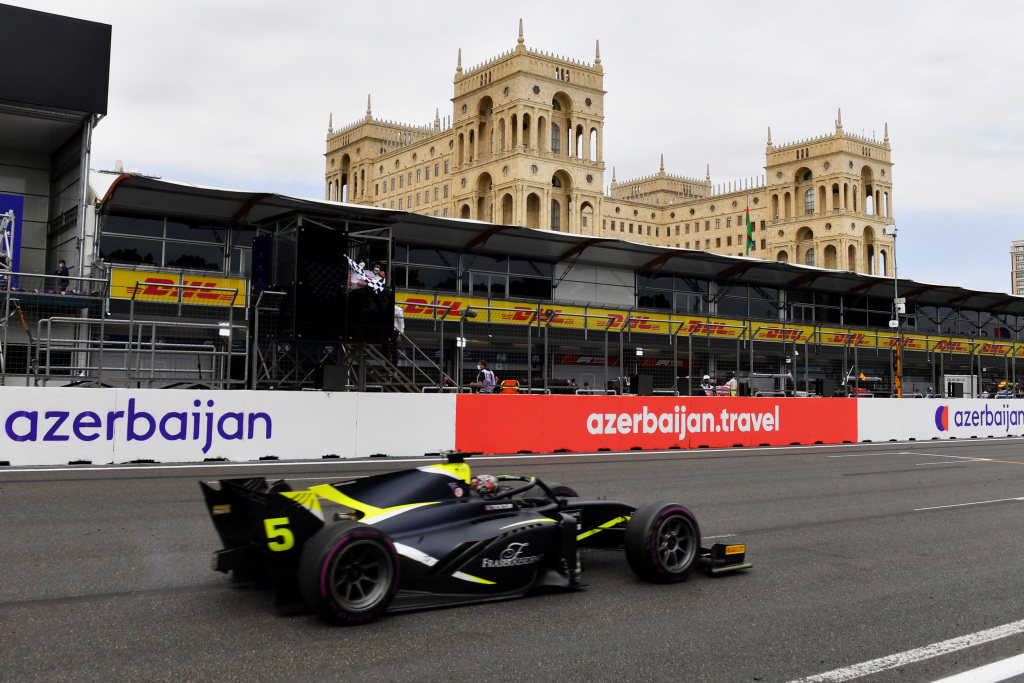 FIA Formula 2
Juri Vips dominated the weekend in Baku last time out, taking one spring race and feature race victories to put him right in contention. Guanyu Zhou remains top of the standings, but lost ground on his rivals Oscar Piastri and Robert Schwartzman. Of the top four drivers, Vips is the only driver to have ever won at Silverstone in F3 in 2019. So it's et for an open weekend of racing across the three races.
| Session | Day | Session time (BST) |
| --- | --- | --- |
| Practice | Friday | 11:30 – 12:15 |
| Qualifying | Friday | 16:50 – 17:20 |
| Race 1 (21 laps) | Saturday | 08:50 – 09:40 |
| Race 2 (21 laps) | Saturday | 14:45 – 15:35 |
| Race 3 (29 laps) | Sunday | 10:50 – 11:55 |
F2 session times at the British Grand Prix
Masters GT Challenge
| Session | Day | Session time (BST) |
| --- | --- | --- |
| Practice | Friday | 10:35 – 11:05 |
| Race 1 (30 mins) | Saturday | 10:20 – 10:55 |
| Race 2 (30 mins) | Sunday | 09:35 – 10:10 |
Masters GT Challenge session times at the British Grand Prix
The British Grand Prix Circuit
Silverstone
Silverstone was built on the site of an RAF bomber station, RAF Silverstone, which was in use between 1943 – 1947. It hosted a race for the first time when a group of friends raced a 2 mile circuit at the out of use airfield in September 1947. A year later, it was taken over by the Royal Automobile Club and after a few race meetings, it hosted the first-ever Formula 1 Grand Prix in 1950.
The circuit originally ran around the perimeter of the three runways, creating a super-quick eight corner track. Significant changes were made in 1991 introducing corners including the tricky Maggotts-Becketts complex, Vale, Brooklands and Abbey.
Each corner at Silverstone has its own name, which is often how commentators will refer to them. Check out our guide to how each corner got its name, so you're up to speed all weekend.
Take in the circuit with this classic race at Silverstone, courtesy of Motorsport.tv.
What happened at the last British Grand Prix?
British Grand Prix 2020
The British Grand Prix was the first of two races at Silverstone during the 2020 season. And what a race.
Lewis Hamilton burst into the lead off the line and pulled away from the pack in typical fashion. But at the end of lap 1, the safety car was deployed when Alex Albon knocked Kevin Magnussen's Haas into the gravel at the final turn. A second safety car was called out when Daniil Kvyat dropped it coming into Maggotts, suffering a huge crash.
There were some tasty battles throughout the pack during the race, but things took off in the last five laps. Kimi Raikkonen's front wing shattered, leaving debris on the track around Becketts. Within the next two laps, Valtteri Bottas and Carlos Sainz's blew-out. Reacting to possible tyre issues, Max Verstappen pitted from second place to ensure he wouldn't have similar issues.
But it was a stop that may have cost Red Bull the race win. Halfway through the final lap, Lewis Hamilton also suffered a puncture, on the front left tyre. On fresh soft tyres, Hamilton hunted the British driver from 30 seconds behind. He caught up by 25 seconds, but Hamilton was incredibly able to navigate the closing stages of the race on three tyres. Charles Leclerc finished 3rd, which is the last time he has stood on the podium.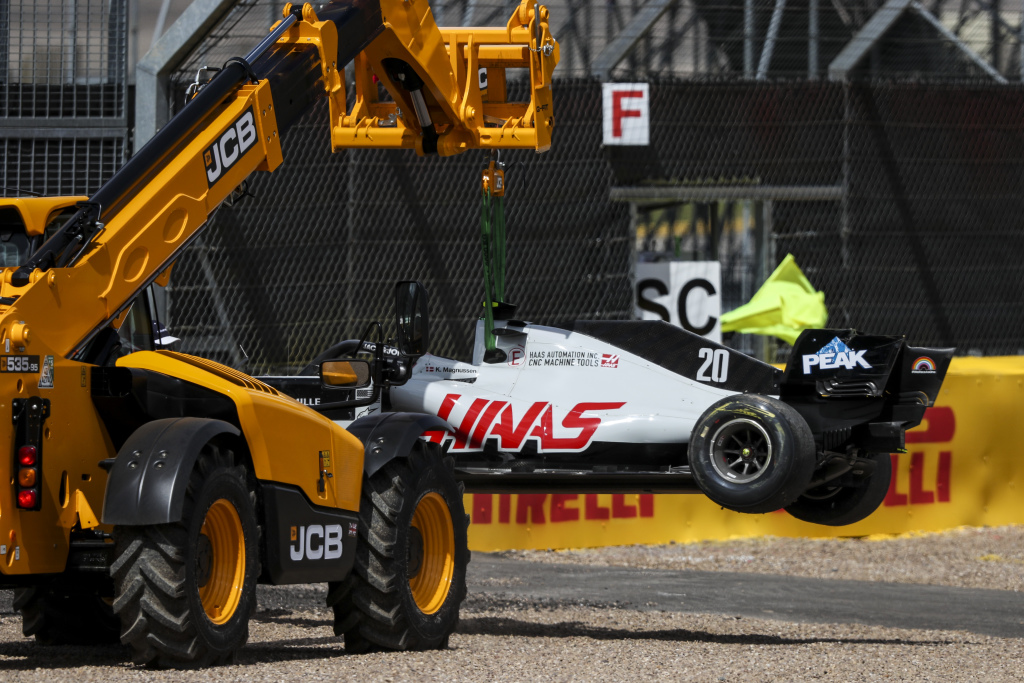 How to stay up to date at the British Grand Prix
You can keep up-to-date across all the breaking news by following Motorsport.com throughout the race weekend.
Or get a round-up of the latest headlines from Britain and beyond with Motorsport.tv LIVE's latest bulletins. Head to their channel on Motorsport.tv for the latest news, interviews and reaction from the paddock. Check out their report on why Ross Brawn believes the race in Baku bodes well for the debut of F1 sprint races.
And after both qualifying and the race, Autosport's top brass will join host Ariana Bravo to review all the top talking points. Check out the latest episode of the Autosport Podcast below, and subscribe wherever you get your podcasts.