10 facts you didn't know about Lewis Hamilton including past teammates, music career, childhood hobbies, his knighthood and more

There is one thing we all know about Lewis Hamilton: he's a great. He's raced across three decades of Formula 1, taking a record-equalling seven world championships, triple-figure pole positions, and a knighthood to boot.
We know he bleeds driving talent, but there's so much more to Hamilton than what he does behind the wheel. From his work improving diversity in motorsport to a budding music career and his relationship with championship rivals, he's a complex guy.
So here are ten things you might not have known about the champion from Stevenage.
10 facts about Lewis Hamilton
Hamilton was a beast at remote-controlled car racing
It was clear from very early on that Lewis Hamilton had a natural talent in abundance. When he was six years old, Lewis was bought a remote-controlled car by his father, Anthony. Within the year, Hamilton finished second in a national race against adults with an electric car. He also won the best newcomer for the petrol class, which is quite a feat, considering he was the youngest competitor by at least 15 years.
Even as a seven-time Formula 1 World Champion, Hamilton reminisces on these times and the pride they brought him. No doubt, it was a feeling he would chase time and time again as he flourished through the racing series.
He told McLaren's boss to sign him when he was just 13
Perhaps it was that early confidence that prompted a young Lewis Hamilton to make a career-defining move. Barely a teenager, Lewis approached Ron Dennis, team boss at McLaren Formula 1 Team. These two meetings would define not just Lewis' life, but the future of the sport itself.
Dennis recalled the encounters: "He asked for my autograph. Two years later he came back, asked for my autograph again. There was a brightness and determination on my face. At that time, I was a bit bored, that's the truth. I told him I would sponsor his future seasons, but he had to do everything I say. The first thing was, to his disappointment, that he was going back to school!"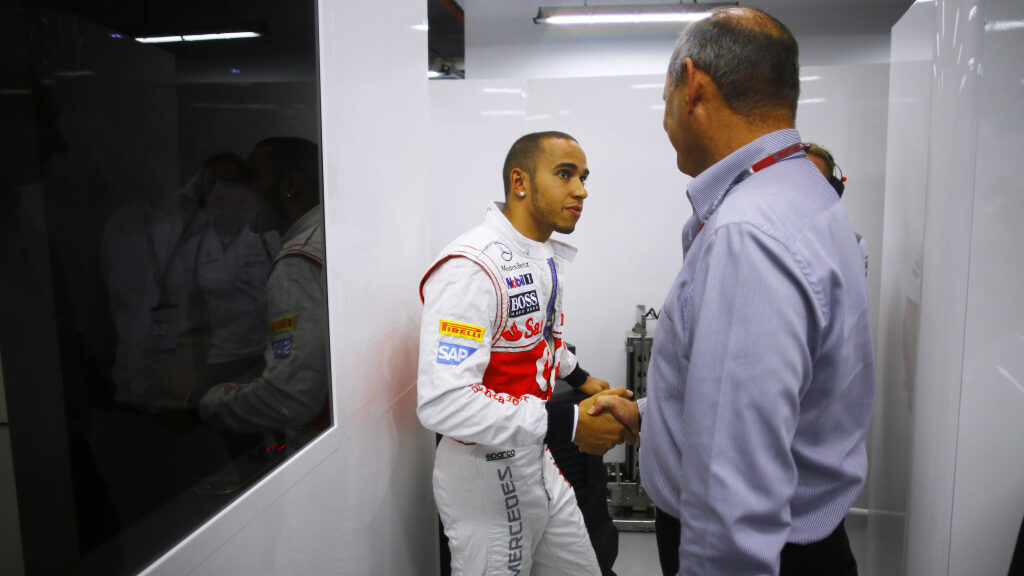 It would be about a decade later before Hamilton would make his debut in Formula 1 with McLaren. A third place in Australia on debut was followed by four second-place finishes before his debut win in Canada. It's safe to say Dennis' punt on the youngster paid off.
Hamilton was in the same school year as Ashley Young
When Hamilton did go back to school, he was in good company, Born in Stevenage, Hertfordshire, Hamilton attended The John Henry Newman School in the town. One of his classmates just happened to be Inter Milan footballer Ashley Young, formerly of Manchester United and England. So, he was in fine sporting company.
Lewis used to be superstitious, but left 'ridiculous' routines behind
Many drivers will have lucky charms or routines to aid them on race day. Michael Schumacher preferred to drive with odd numbers, Sebastian Vettel lodges lucky silver in his race boots, Stefano Modena hated the right side of the garage. And Lewis Hamilton used to be the same.
He told James Corden and Tom Brady: "I must have been 10 or 11, and my brother gave me this conker. It was my lucky conker, so I put it in my suit. I don't know what happened to the damn thing, it came out of my trouser leg and I lost this damn conker. Then I had this lucky pair of underwear, and my mum shrunk them!"
"It wasn't until I was 17 or 18, and I had a sequence of how to get dressed: right sock first, then] left sock. I got in the car in Germany, about to start the race, and my helmet wasn't done up. So, I'd missed one of the elements of these steps I had made crucial to getting the job done. I remember I crashed several seconds later, and after that, I thought 'this is ridiculous, it's all in my head'. So, I got rid of all that. We create those things in our minds."
Lewis Hamilton dominated the junior series
In modern open-wheel racing, drivers can expect tough competition when progressing through the series. F3 and F2 are fiercely competitive as young drivers vie for the eyes of team bosses on the Formula 1 grid.
But for Hamilton, he simply blew the field away. In 2005, he took the Formula 3 Euro Series with aplomb. Of the 20 races, 15 were won by the Brit, who also took 13 pole positions. He wrapped up the championship against rivals including Adrian Sutil, Lucas di Grassi and Sebastian Vettel by 78 points.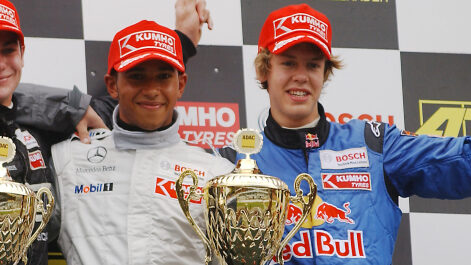 Taking the step up to GP2 the following year, Hamilton continued his momentum. With his nearest rivals including Nelson Piquet Jr. and Timo Glock, Hamilton won the series at the first time of asking, albeit by the finer margin of 12 points.
These performances were enough to convince Ron Dennis to elevate Hamilton into a Formula 1 seat. In his first season of premier class racing, Hamilton matched his world champion teammate Fernando Alonso for points, but both came 1 point short of Kimi Raikkonen's championship-clinching total of 101.
Hamilton ditched his Senna-inspired yellow helmet
After victories throughout his junior years, it was hard to miss Hamilton out on track. Not least thanks to his striking helmet design.
He used a bright yellow helmet design for his first seasons in Formula 1 in homage to his hero, Ayrton Senna. Of course, this yellow is associated with the driver's Brazilian nationality. But designer Sid Mosca described the yellow base as symbolising youth, with a green stripe symbolising aggression and a blue stripe symbolising movement.
For years, Hamilton used a yellow helmet with blue and green lines, with the addition of a red line. In 2014, Hamilton began to move towards more red on his helmet but maintained yellow elements.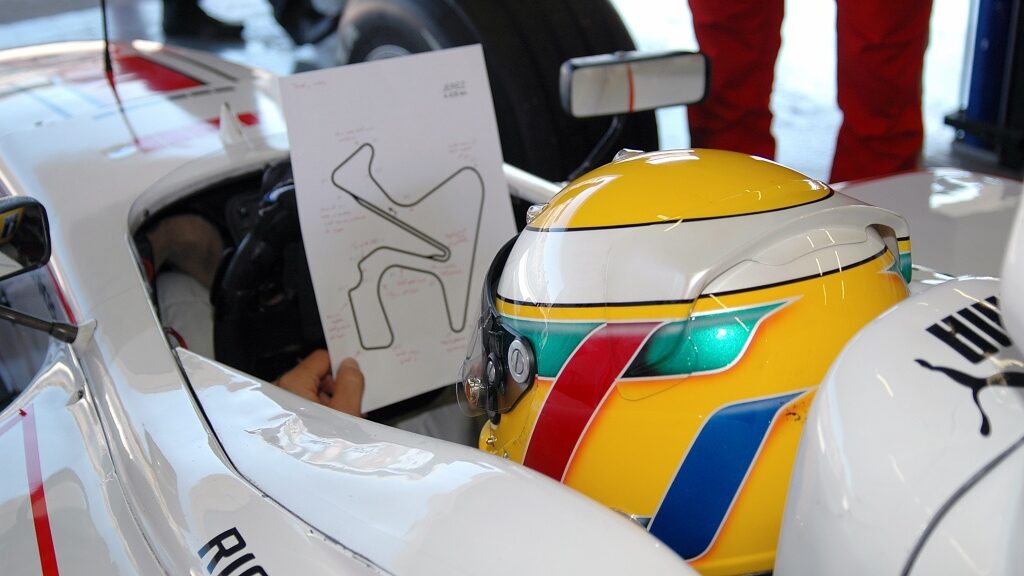 But there was a drastic change in 2020. In support of the Black Lives Matter movement, Hamilton donned a black helmet with purple accents. This was a shift from two decades of using yellow and red art on his lid, but a poignant way to make a statement.
Nico Rosberg and Lewis Hamilton used to be great friends
Their upbringings couldn't have been more different. Hamilton grew up in Stevenage as his Dad worked multiple jobs to fund his career. Rosberg grew up in luxurious Monaco, the son of his title-winning father Keke.
But growing through the junior ranks, Rosberg and Hamilton became mates. In 2000, the pair were teammates racing for the karting team Mercedes Benz McLaren. Fellow competitor Robert Kubica has recalled how they were competitive on every level: "they would even have races to eat pizza, always eating two at a time".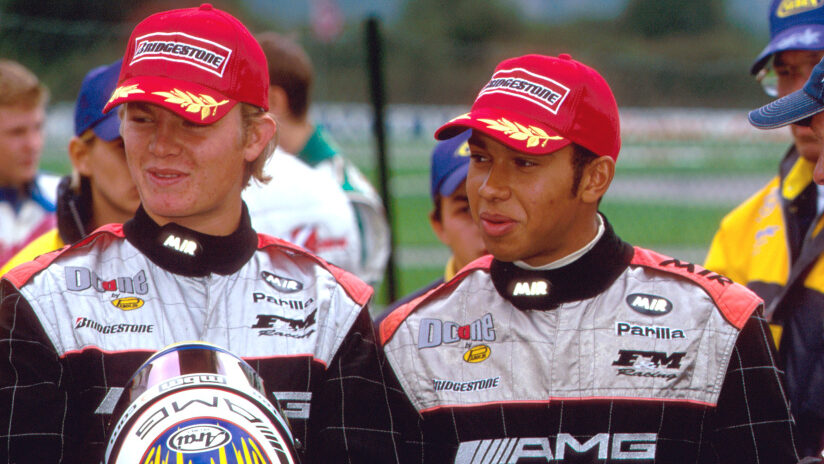 Eventually, the pair's careers diverged. Rosberg made his debut for Williams in 2006, with Hamilton following the next year. The Brit had a stellar debut season, finishing just a point behind world champion Kimi Raikkonen. But in the following season, Rosberg's maiden podium came during an Australian Grand Prix Hamilton had won. The pair famously embraced in the cool-down room.
As the seasons went on, the pair became teammates once again at Mercedes. But it was not amicable, with several squabbles leading to Hamilton stating in an interview, "we are not friends".
Lewis Hamilton has appeared on a Christina Aguilera record
Anyone who follows Lewis on Instagram will know he's a budding musician. He regularly posts clips of his recording set up, or showcasing his progress on the piano or guitar.
But it's Lewis' vocals that have already secured him a spot on a record.
Hamilton appeared under the pseudonym 'XNDA' on the track "Pipe" from Christina Aguilera's 2018 record Liberation. He raps a short verse on the track, which he revealed on Instagram (naturally) he wrote and recorded in 2 hours.
He said: "I had this incredibly beautiful and talented person reach out to me a while back asking for me to be on her album, I was so blown away and I jumped at the opportunity. I had 2 hours to write the short verse and record.
"The goal was to have the music come out under a different name so that you could hear the music first and later know it was me but it didn't work out the way I'd planned."
So, perhaps we can expect to hear more from Hamilton in the future…
Hamilton is working to improve representation of Black people in motorsport
As Formula 1 continues to take the knee before the race and pause to recognise the 'We Race As One' message, there has been criticism that more action is needed, rather than symbolism.
Lewis Hamilton has taken it into his own hands. In June 2020, he launched The Hamilton Commission, which has the mission of 'improving the representation of Black people in UK motorsport'.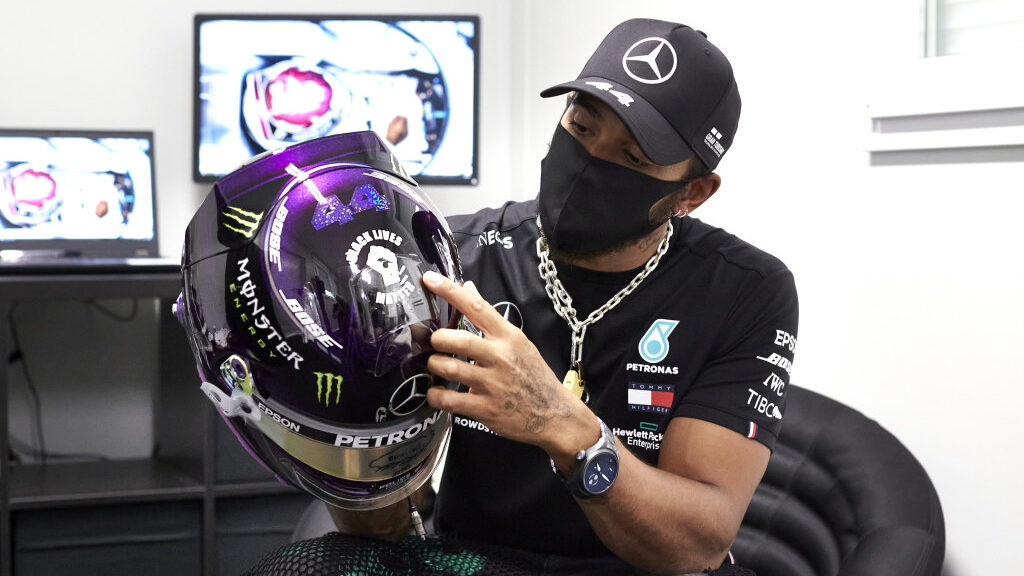 When launching the commission, Lewis said: "Despite my success in the sport, the institutional barriers that have kept F1 highly exclusive persist. It is not enough to point to me, or to a single new black hire, as a meaningful example of progress. Thousands of people are employed across this industry and that group needs to be more representative of society."
He will work with a board of commissioners and the Royal Academy of Engineering to identify the key barriers to recruitment and progression of Black people in UK motorsport, and to provide actionable recommendations to overcome them.
Lewis Hamilton is the fourth Formula 1 driver to be knighted
Having equalled Michael Schumacher's record of seven world titles, Lewis Hamilton was bestowed a knighthood in the 2021 New Year's Honours by the Queen.
He follows in the footsteps of Sir Jack Brabham (three titles), Sir Stirling Moss (no titles), and Sir Jackie Stewart (three titles).
So it was certainly high time Hamilton became Sir Lewis. But it might be a while before he receives his honour at Buckingham Palace. Investitures – where the medal is awarded – were paused during the pandemic and restarted in June 2021. But it might be a while before Hamilton's busy schedule aligns to allow him to accept the honour.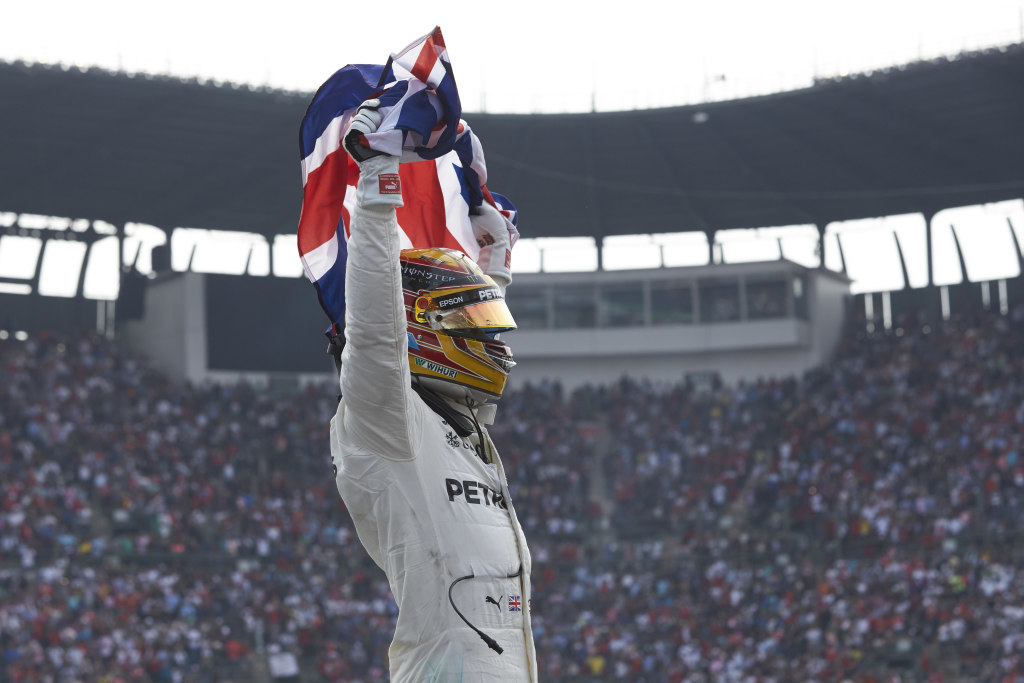 See Lewis Hamilton live on track
Now you know about the Formula 1 legend, book tickets to see him out on track. Explore available grandstand tickets for Formula 1 tickets this season.