Check out this comprehensive history of Lewis Hamilton's career in Formula 1 with a brief synopsis of every season so far.
Lewis Hamilton is, without a doubt, one of the greatest drivers Formula 1 has ever seen.
He may be renowned for being a dominant force in the modern era, but it's worth remembering it wasn't always that way.
His early years with McLaren were rarely fruitful, and he his battles on-track have shaped him to become the great driver we see today.
As he closes in on Michael Schumacher's record of seven World Drivers' Championships, take a trip down memory lane with this brief history of Hamilton's career, year-by-year.
Lewis Hamilton's F1 career season-by-season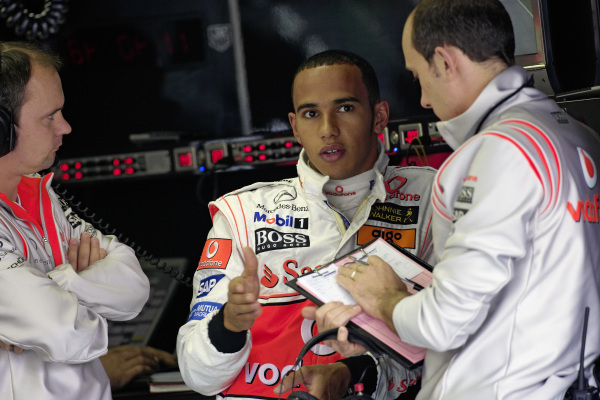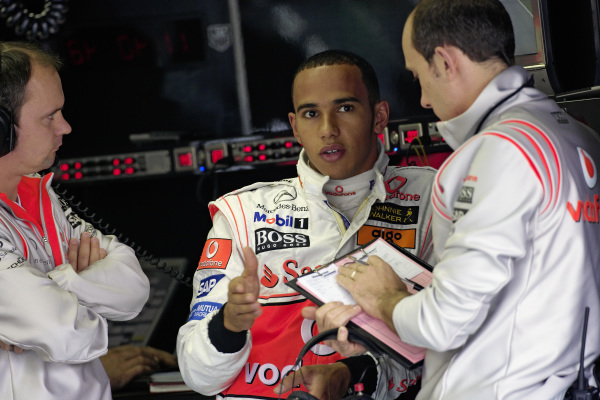 2007: Hamilton takes Formula 1 by storm
Lewis Hamilton's Formula 1 career kicked off at McLaren, the team that he first tested for in 2004. His first teammate was none other than defending world champion Fernando Alonso, who also joined the team in 2007. No pressure, then.
In his first ever race in Australia, Hamilton finished third, becoming the 13th debutant to finish on the podium. Two races later, Lewis was leading the championship, making him the youngest to do so.
He followed that up with four consecutive second-place finishes. At the Canadian Grand Prix of 2007, the Briton took his first-ever pole position and win, just six races into his career.
He was consistently solid throughout his first year, and looked favourite for the title. But at the penultimate race in China, the chance to secure the championship agonisingly slipped through his fingers. Approaching the pits, Lewis misjudged the put entry, and ended up beached beside the track.
That set up a tantalising season finale in Brazil. Just seven points separated Hamilton from his rivals, Alonso and Raikkonen chasing him. A woeful start saw the young driver swallowed up, but after making his way back through, disaster struck. Lewis' car was struck by a gearbox issue, and lost a huge number of places. By the end of the race, just one point separated newly-crowned champion Raikkonen from both Alonso and Hamilton.
Lewis' perfect season was within touching distance, but set himself up to come back stronger in 2008.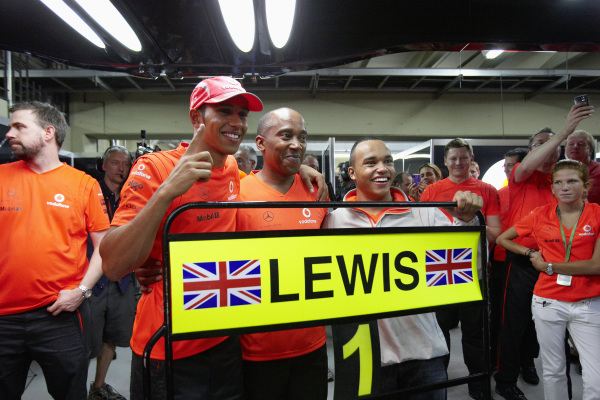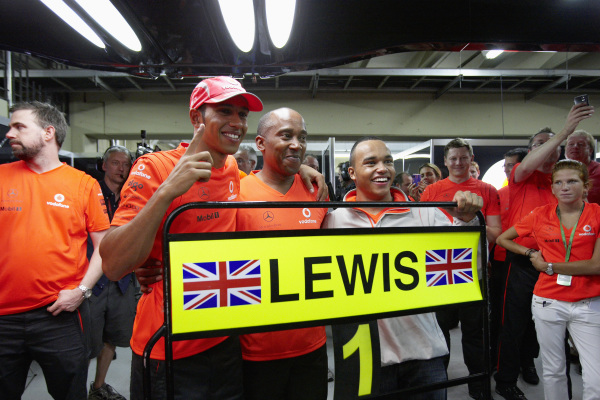 2008: If at first you don't succeed…
After the heartbreak of 2007, Lewis set out to make 2008 his year.
Alonso left McLaren in 2008, and was replaced by the Finnish Heikki Kovalainen, promoting Lewis to the number one car.
Hamilton started the year with a win, but the had to wait five more races for his second win. As the season progressed, Ferrari's Felipe Massa emerged as the key contender to Hamilton for the championship.
It all came down, once again, to the final race in Brazil. Lewis had to finish fifth or higher to secure the win, but it wouldn't be that straightforward. The rain couldn't make up its mind at Interlagos, with drivers pitting multiple times to swap between wet and dry tyres.
With two laps to go, Lewis was in the required fifth position, but the Torro Rosso of Sebastian Vettel squeezed past to knock him back down to sixth. He stayed in sixth as Massa took the chequered flag and home win.
But, with just two corners to go, Timo Gock began to struggle on his dry tyres. In one lap, Vettel and Hamilton made up an 18-second gap to overtake the German, and Hamlton retook 5th position. He crossed the line, cutting short the celebration's in Massa's Ferrari garage, and took the championship be a solitary point.
In doing so, Hamilton became the first black driver to win the championship, and first Brit since Damon Hill in 1996. History was made.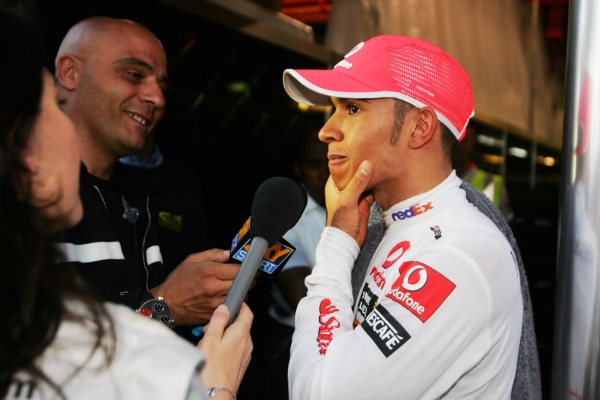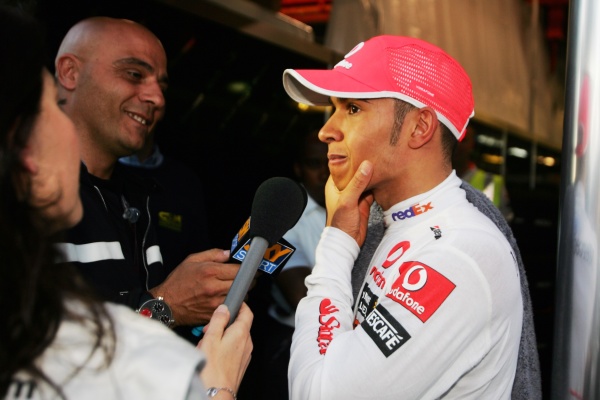 2009: Liegate
Lewis Hamilton's first season as world champion didn't start as smoothly as he would have hoped. In Australia, he made his way from 18th following penalties up to 3rd, benefitting from Jarno Trulli being penalised for overtaking him under safety car conditions.
But after the race, Hamilton was disqualified for misleading the stewards. He'd told them that his engineer had not purposely let the Italian through, which was unfounded when the radio communications came to light.
Hamilton called this the "hardest week of his life", and considered quitting the sport.
The rest of the season was one to forget. The McLaren failed to score points in five consecutive races, and Hamilton called for the car to be scrapped. Updates improved the situation, bringing Lewis wins in Hungary and Singapore, but it was little too late. He finished 5th, as Jenson Button won the World Drivers' Championship for Brawn GP.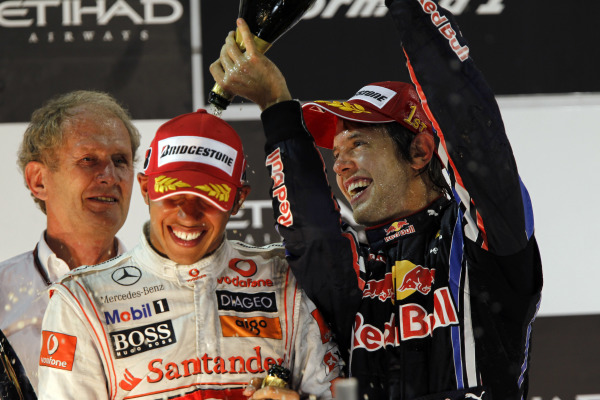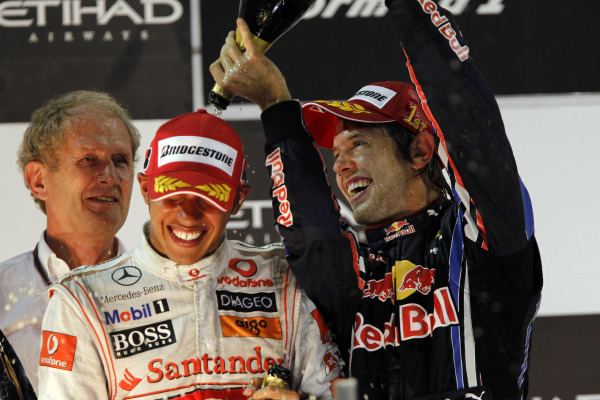 2010: Another shot at the title
In 2010, McLaren looked to reverse their fortunes. They brought Button in to have the last two world champions in their two cars.
It paid off, and in the fourth race of the season, the team secured their first 1-2 finish in three years. Jenson won that race, with Lewis having to wait until the seventh race to take a victory.
The championship battle was a tight one, and Lewis took the lead with a win at Belgium. But he wasn't able to hold on for long, with crashes at the next two races. Going into the final race at Abu Dhabi, Sebastian Vettel, Fernando Alonso, Mark Webber and Hamilton were all in contention.
But Hamilton had it all to do, and needed poor races from the other three drivers. Ultimately, Lewis finished second to Red Bull's Vettel, who took Hamilton's record as youngest F1 champ.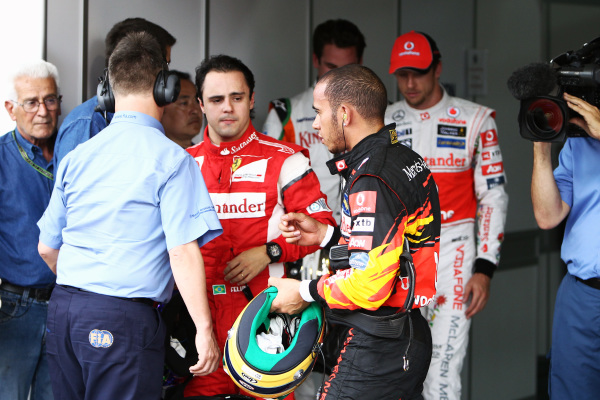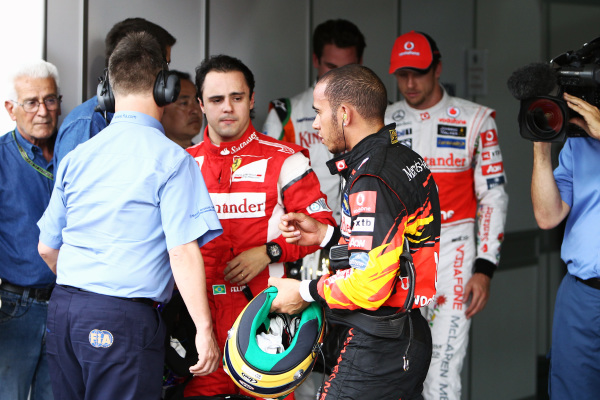 2011: Fued with Massa gets messy
2011 was one of Lewis' quieter years. As Sebastian Vettel began his domination, Hamilton took three wins and finished over 150 points behind the German.
This year, however, did see Lewis tangle with his old title contender Felipe Massa. The pair tangled in Singapore, with Massa labeling Hamilton "incapable of using his brain". They tangled again in Japan, and at the first Indian Grand Prix.
But at the penultimate race in Abu Dhabi, which Lewis won, the pair put their past battles behind them.
It was the first year Lewis finished behind a teammate, and promised his team that "2012 would be a good one".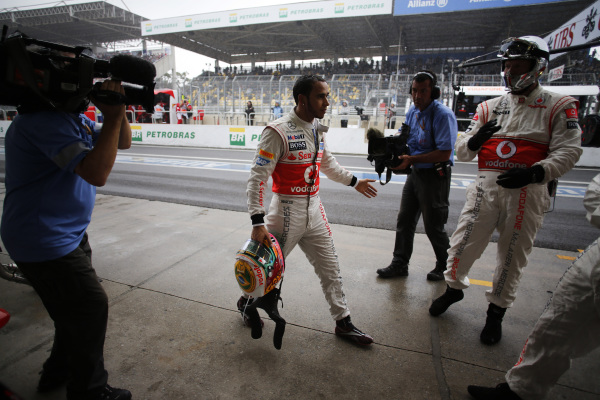 2012: Not a good one
Hamilton started the season with three third-place finishes in what looked to be a strong year. But, with only four wins and five retirements – due to collisions or reliability issues with the car – Hamilton was off the pace. He finished two points ahead of Button, in fourth place.
In the summer of 2012, Lewis Hamilton decided to gamble with his career. After five seasons with the team he wanted to join when he was a boy, he announced he was to leave McLaren.
From 2013, he would partner Nico Rosberg at Mercedes, much to the surprise of the entire paddock. Lewis cited Niki Lauda, a key figure at the German team, as one of Lewis' main persuaders.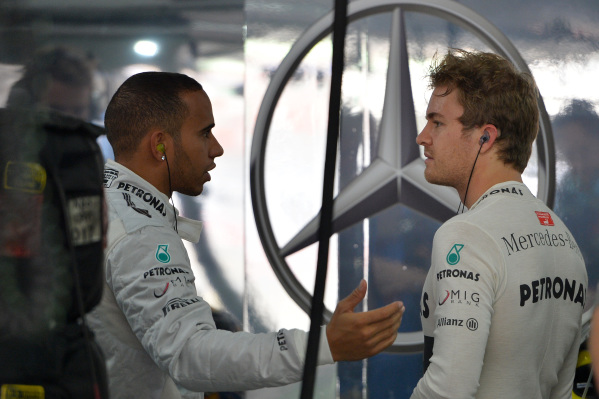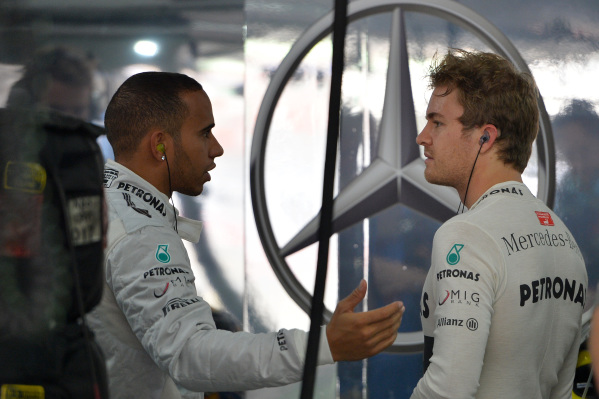 2013: A new era for Mercedes
The start of Hamilton's Mercedes career was a slow burner. He scored a couple of podiums in the first half of the season, but had to wait for Hungary for his first win. He became the first British driver to win in a Mercedes works car since Stirling Moss in 1955.
While the podiums didn't come thick and fast, it was a solid point-scoring season. Lewis finished the year in fourth position, equal to his last season with Mercedes.
The team came second behind Red Bull, a solid result given Mercedes previous performances in the championship.
2014: Back on top
His first season racing under the now synonymous number 44, Hamilton went into the season in what was expected to be the fastest car.
And it was.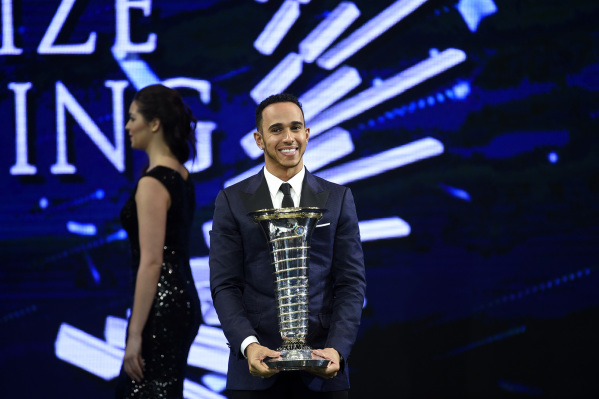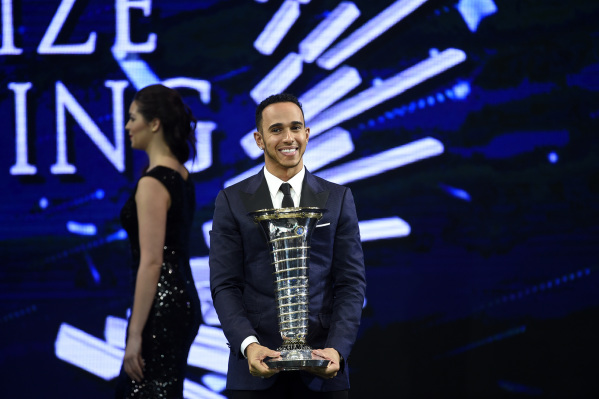 While teammate Rosberg took the first win while Lewis retired, the Hamilton led four consecutive Mercedes 1-2 finishes. Lewis followed this opening form with a string of five wins on the bounce in the second half of the season.
In fact, there were only three races all year that Lewis did not finish on the podium.
While Hamilton dominated, this season sparked his possibly biggest rivalry. In Monaco, Rosberg was accused of running wide during qualifying, leading to yellow flags and ruining Hamilton's chance of pole. Hamilton made his feelings known, and announced the pair were no longer friends.
But it didn't deter Lewis, and the title fight once again went down to the final race. Lewis dominated the race – which had double points on offer – and as Rosberg's car suffered ERS issues, Hamilton took the win and the championship. His second, on what he described the "greatest day of his life".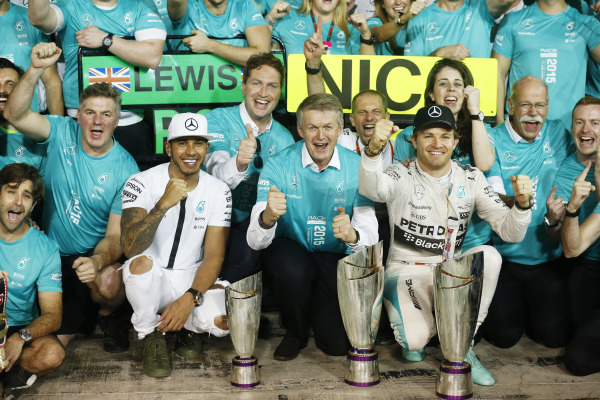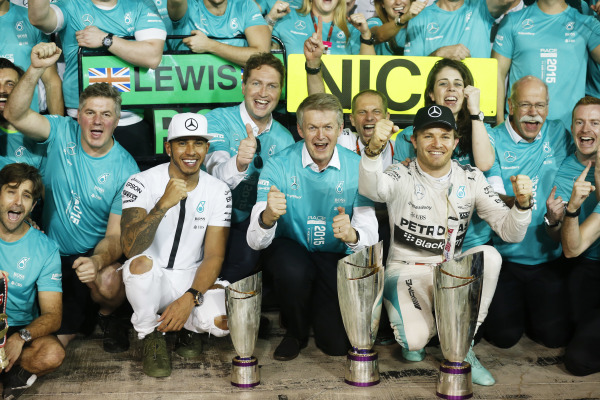 2015: Equalling Senna's record
Hamilton followed up his dominant 2014 with an equally brilliant 2015. Again, only failing to finish on the podium twice, Lewis took the title in style.
This included his second consecutive win at Silverstone – his third overall.
After such a dominant display, Lewis had the chance to seal the championship with three races to spare – a contrast to his previous last race championship laps.
The race in the United States was led by Nico Rosberg for majority, but with a handful of laps to go, Rosberg ran wide allowing Hamilton to win the race.
Describing his victory, Hamilton labelled it the "greatest moment of his life" and that it was extra special that he had matched his hero Ayrton Senna's record.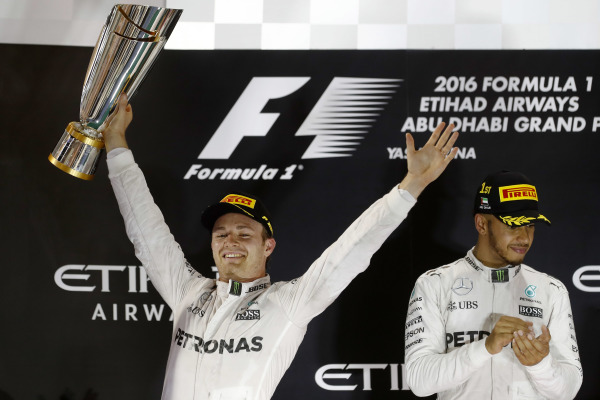 2016: Rosberg gets his dues
After two years playing second fiddle to Lewis Hamilton and coming second twice in a row, 2016 was to be Nico Rosberg's year.
That's not to say it wasn't also the most explosive season between the pair yet.
Rosberg won the first four races, but at round 5 in Spain, the Silver Arrows got slightly too close for comfort. After racing wheel-to-wheel for the lead out of the first three corners, Hamilton attempted a pass on his teammate. Rosberg closed the door on Hamilton, running him onto the grass and spinning off the track, collecting the German in the process.
It was a sign that tempers were set to flare once again.
Lewis recovered from his poor start to the year, with a string of four wins before the summer break. He led the championship going into the first race back in Belgium.
But Rosberg performed a comeback, and Lewis' second retirement of the year proved costly as his teammate capitalised on the dropped points. At the drop of the flag in Abu Dhabi, Rosberg claimed the championship by five points, before almost immediately retiring from racing.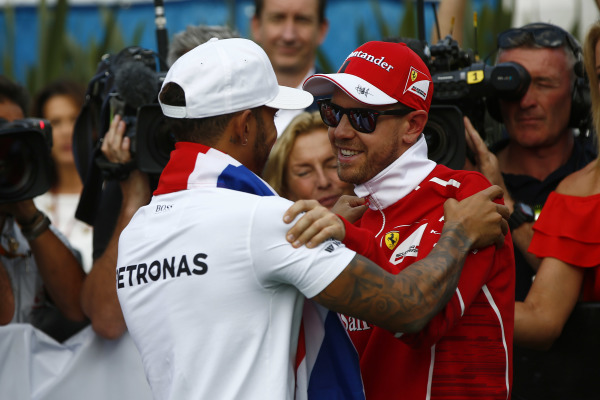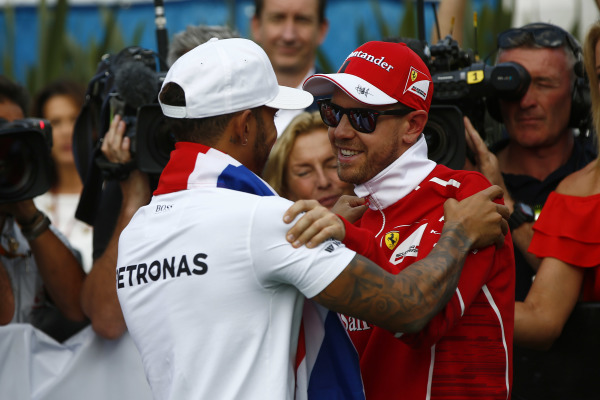 2017: Battle with Vettel
With his teammate and rival out of the picture, Mercedes brought Finnish driver Valtteri Bottas in as his replacement.
While some expected an end to Mercedes' dominance, Hamilton went tooth-and-nail against Sebastian Vettel for the championship. The German had the better start with six podium finishes in a row.
Tempers flared in Azerbaijan, however. Under the safety car, Vettel ran into the back of Lewis' car, and the Ferrari driver accused the Mercedes man of "brake-testing" him. In his anger, he drove alongside Lewis, and swerved into his car.
Not Seb's finest moment, but he continued to lead the championship.
But once again, as in 2016, a number of victories after the summer break put Lewis comfortably top of the championship. In Italy, a pole position for Hamilton saw him surpass Michael Schumacher's record for all-time most pole positions.
But it at the Mexican Grand Prix, with two races to spare, that Hamilton claimed the title crown. His fourth saw him draw level with Alain Prost, and Vettel himself.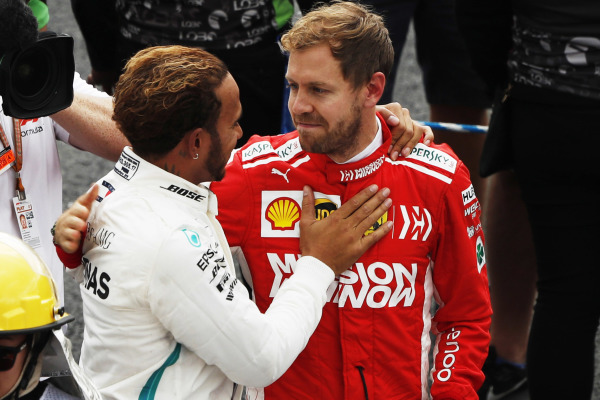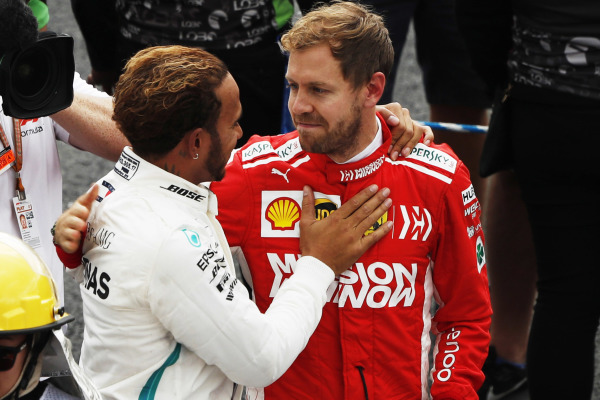 2018: The "Fight for Five"
And so, Lewis Hamilton and Sebastian Vettel both went into the 2018 season with four championship trophies apiece. The battle to match Juan Manuel Fangio's five titles was on.
The first half of the season was tight, but yet again, Lewis came into his own after the break.
Four wins on the bounce in Italy, Singapore, Russia and Japan set Lewis up in a fantastic position, but under controversial circumstances. In Russia, Valtteri Bottas – leading the race – was ordered by his team to give the place up to Lewis. He did so obligingly, with Hamilton calling the Finn "a true gentleman".
And so it was in Mexico, once again, that Lewis Hamilton would take the title. His fifth world championship saw record fall for most points in a season, and post podium finishes in one year (17). In the end, a dominant display.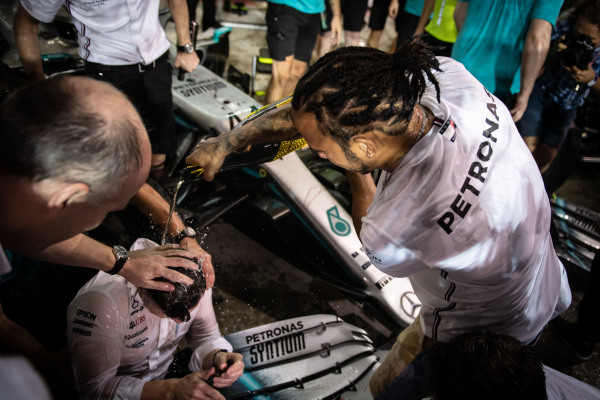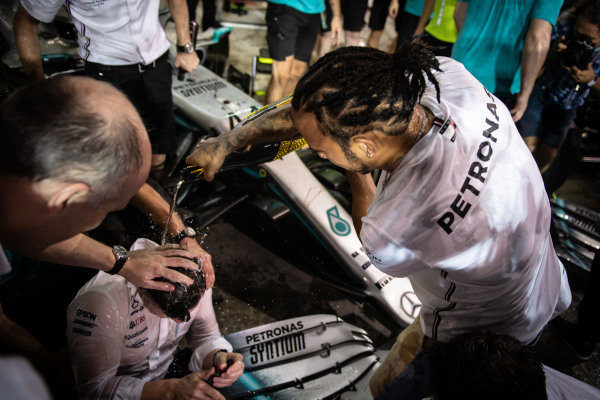 2019: Nothing but dominance
And then, Lewis redefined dominance.
The 2019 season was possibly Lewis' finest. He finished on the top two steps of the podium in all of the opening eight races, losing out only twice to his teammate.
Uncharacteristically, the second half of the year was Lewis' weaker period. Ferrari popped up with three wins after the summer break, but it didn't shake Hamilton's unassailable lead.
By the time the United States Grand Prix was upon us, Lewis came second to wrap up the title in style. In the end, Lewis Hamilton won with an 87-point lead over his teammate in second.
This title put him within touching distance of the record set by the great Michael Schumacher.
Will Longman
1 October 2020