Check the Abu Dhabi Grand Prix session times, circuit facts, weather report and support races for the Formula 1 event at Yas Marina.

It could all come down to this: the Abu Dhabi Grand Prix. The final race in an epic season of Formula 1 in which either Max Verstappen will become the 34th world champion, or Lewis Hamilton will take a record-breaking 8th title.
If we're due an end to this season as fitting as it deserves, we can expect an epic race to decide the victor.
Fittingly, track changes are set to make this final round even more competitive than previous races at Yas Marina. Track changes are set to increase overtaking at several points around the circuit, which means we should be due a far less processional race than we received in 2020.
There's also action from F2, which draws to a conclusion after a long, hard-fought season.
Make sure you're on top of all the action with session times, support series, weather forecast and the latest news from the weekend, check out this guide with all the information you'll need.
Abu Dhabi Grand Prix race preview
Abu Dhabi Grand Prix COVID requirements
If you are attending the Abu Dhabi Grand Prix, there are some actions you should take before you arrive at the circuit.
Fans should download the Alhosn app, which is the state's COVID-19 app. This is how you will prove your vaccination and testing status when entering the circuit. To use the app, you will have to upload your COVID-19 documents to your visa via the ICA Smart Services dashboard here. When you input your details into the Alhosn app, you will then have access to a green QR code on the app.
You will also be able to show a vaccination certificate for a vaccine acknowledged by the UAE (Sinopharm, Pfizer-BioNTech, Sputnik V, Oxford-AstraZeneca and Moderna).
For the Abu Dhabi Grand Prix, all visitors over the age of 13 will be required to take a PCR test taken less than 96 hours ago, and taken in the UAE. This is in addition to proof of vaccination. Visitors who are unable to supply proof of vaccination will need a PCR test taken in the UAE less than 48 hours ago.
Children aged between 13 and 15 require a test less than 96 hours old, while all children aged 12 and under will be granted access.
Face masks will be required at all times, apart from sitting down to eat. This includes your seat in the grandstand.
Abu Dhabi Grand Prix F1 session times
Abu Dhabi is on Gulf Standard Time is one hour ahead of AST in Saudi Arabia, so there is a slight shift in times compared to the week before. The race will return to an on-the-hour start, and begin in the twilight of the evening and move into the dark of the early nighttime.
| Session | Day | Session time (GST) | Session time (GMT) |
| --- | --- | --- | --- |
| Free practice 1 | Friday | 13:30 – 14:30 | 09:30 – 10:30 |
| Free practice 2 | Friday | 17:00 – 18:00 | 13:00 – 14:00 |
| Free practice 3 | Saturday | 14:00 – 15:00 | 10:00 – 11:00 |
| Qualifying | Saturday | 17:00 – 17:00 | 13:00 – 14:00 |
| Race (57 laps) | Sunday | 17:00 – 19:00 | 13:00 – 15:00 |

Abu Dhabi Grand Prix session times
Abu Dhabi Grand Prix support series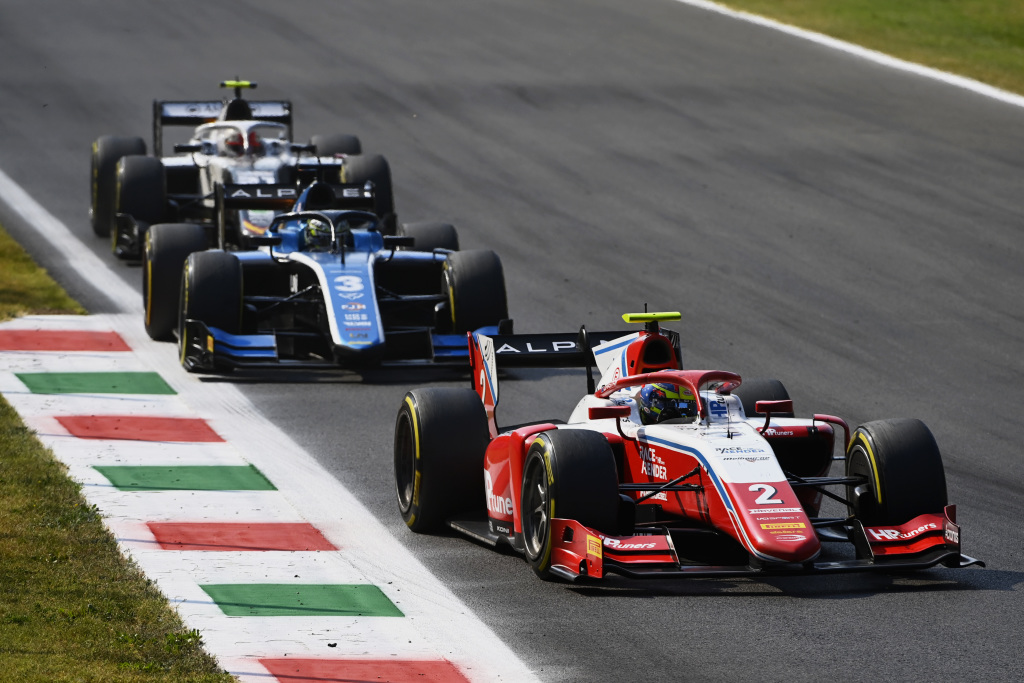 FIA Formula 2
The final round of FIA F2 will take place at Yas Marina, and if the championship hasn't been decided in Saudi Arabia, it will be here where Guanyu Zhou and Oscar Piastri fight for the title. It will also be the end of Zhou's third and final season in the series before he makes the step up to Alfa Romeo's F1 team in 2022.
| Session | Day | Session time (GST) | Session time (GMT) |
| --- | --- | --- | --- |
| Practice session | Friday | 11:35-12:20 | 07:35-08:20 |
| Qualifying | Friday | 18:30-19:00 | 14:30-15:00 |
| Sprint Race 1 (20 laps or 45 mins + 1 lap) | Saturday | 12:20-13:05 | 08:20-09:05 |
| Sprint Race 2 (20 laps or 45 mins + 1 lap) | Saturday | 18:45-19:30 | 14:45-15:30 |
| Feature Race (28 laps or 60 mins + 1 lap) | Sunday | 13:00-14:00 | 09:00-10:00 |

Abu Dhabi F2 session times
Abu Dhabi Grand Prix weather report
There should be no surprises for the entire finale weekend. Temperatures will be in the high 20s, and there will be zero chance of rain affecting the race.
Live weather updates
ABU DHABI WEATHER
The Abu Dhabi Grand Prix Circuit
Yas Marina Circuit
The Yas Marina Circuit has undergone its first major layout changes since it first held a race in 2009. To maximise overtaking opportunities during the race, some corners have been completely changed, and this includes:
– Old turns 5, 6 and 7 are now one long hairpin at the new turn 5. This was a much tighter hairpin at turn 7 leading onto the main straight, but the drivers will now be able to carry more speed into the wider corner, with the removal of slow speed turns 5 and 6.
– At the end of the third straight, the slower turns 11, 12, 13 and 14 have been reprofiled into one much wider hairpin at turn 9 – much like the new turn 5. This should enable more chances to make a move at the end of the DRS zone.
– As the cars move underneath the illuminated W Hotel, the corner radius has been increased, which should allow the cars to follow more closely.
It remains to be seen whether these changes will result in better racing, but we do know that the key overtaking zone is likely to be at the end of the longest straight at turns 6 and 7. Between two DRS zones, this could be the scene of a championship-deciding overtake.
For a taste of what the lap will look like, take a look at this Mercedes Track Guide on Motorsport.tv.
How to stay up to date at the Abu Dhabi Grand Prix
You can keep up-to-date across all the breaking news by following Motorsport.com throughout the race weekend.
Or get a round-up of the latest headlines from Budapest and beyond with Motorsport.tv LIVE's latest bulletins. Head to their channel on Motorsport.tv for the latest news, interviews and reaction from the paddock. Check out this first look at the Abu Dhabi track renovations from a previous bulletin.
And after both qualifying and the race, Autosport's top brass will join host Ariana Bravo to review all the top talking points. Check out the latest episode of the Autosport Podcast below, and subscribe wherever you get your podcasts.