From Lewis Hamilton to Michael Schumacher, Ayrton Senna to Sebastian Vettel, read the stories of Formula 1's ten greatest drivers of all-time

As of 2021, there have been 770 Formula 1 racing drivers. Touring the world racing for glory in front of millions, week-in, week-out, it's every driver's dream to win a race. A small minority achieve that feat, while fewer drivers will reach the exclusive World Champion club.
But a tiny minority become legends. Whether it's their character off-track, talent in the car, or epic rivalries, a select number of drivers cement their place in the history books.
Here, you'll learn about the 10 drivers with the most wins in Formula 1 history. From Niki Lauda's 25 victories to Lewis Hamilton's 99 (and counting), learn about the greatest drivers to grace the Formula 1 grid.
Ten greatest Formula 1 drivers in order of number of race wins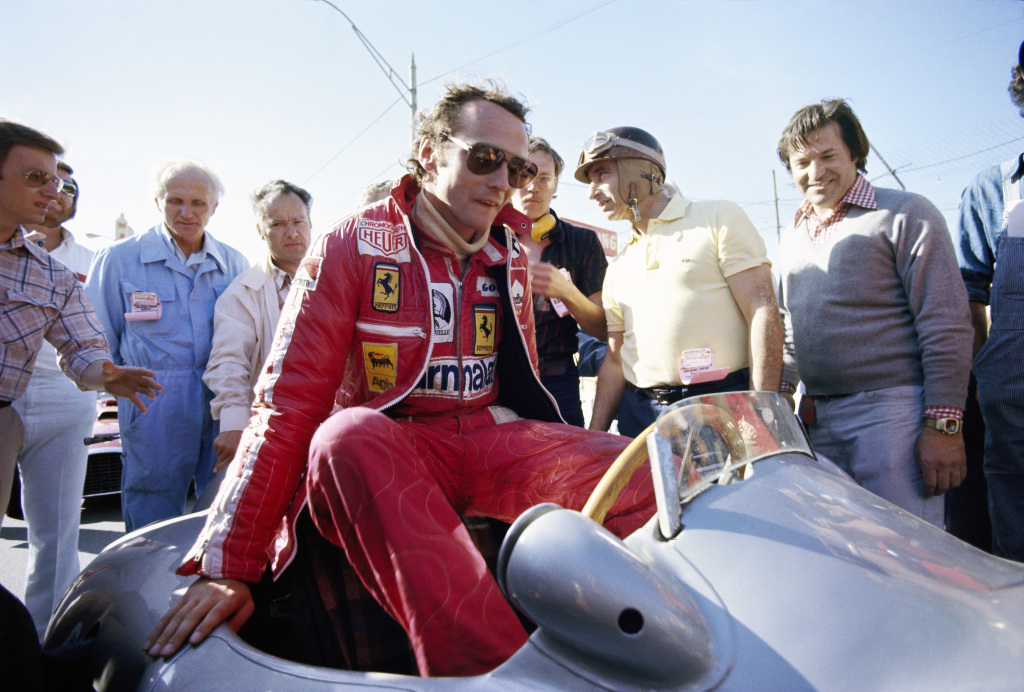 Niki Lauda

First race: 1971 Austrian Grand Prix
Championships: 3 (1975, 1977, 1984)
Number of wins: 25
Number of pole positions: 24

Niki Lauda may be at the latter end of this scale, but he without a doubt one of the most inspirational drivers to grace the grid. While he came from a wealthy background – as many who could afford to race cars are – his family didn't approve of his hobby. He took out a £30,000 loan to buy his way into a Formula 2 team, and it was a gamble that soon paid off. The following year, he was promoted to F1 and raced for March.

His talent was quickly recognised by a fledgling Ferrari which was looking to bounce back from a podium-less 1973 season. They put their faith in Lauda's talent, and he returned the favour. Taking 2nd place in the opening race, and scoring his maiden win three races later, Lauda went about establishing himself as one of the best.

And that's exactly what he did in 1975, with his first world championship. With an incredible Ferrari 312, he took the title with an impressive five wins. In '76, his rivalry with James Hunt came to the forefront. Lauda had another incredible start to the season with six wins and nine podiums in 10 races. But during the German Grand Prix, Lauda suffered life-threatening injuries that looked almost certain to end his life, let alone his racing career.

But Lauda bounced back. He missed only two races and returned to the grid in Italy, where he took 4th. Come the season's end, he finished a single point behind title winner Hunt. Lauda went on to win the championship the following year for good measure.

Lauda's third championship came a decade after his Formula 1 debut, as he pipped McLaren teammate Alain Prost to first by half a point – the finest margin in history. He would stay involved in Formula 1, and was a key figure in the modern Mercedes Formula 1 team.

Jim Clark celebrates after winning in Belgium.
Copyright: Motorsport Images

Jim Clark

First race: 1960 Dutch Grand Prix
Championships: 2 (1963, 1965)
Number of wins: 25
Number of pole positions: 33

Scot Jim Clark was the greatest driver of his time. He began racing in 1960, having cut his teeth in local rallies and hill climbs around Scotland. Later, he made his F1 debut for Lotus mid-way through the 1960 season in Zandvoort at the Dutch Grand Prix. Later that year, he returned for the Belgian Grand Prix in a race where Chris Bristow and Alan Stacey lost their lives. Despite finishing fifth, Clark admitted he was driving "scared stiff" the entire race.

His first drivers' championship came in a sensational 1963 season. He won seven of the ten races that year, a win record that wouldn't be matched until Alain Prost took seven wins in 1984. His next championship came in an almost equally dominant 1965 season, in which he won six of the opening seven races. The only race he didn't win was the Monaco Grand Prix, because he decided to win the Indianapolis 500 instead.

Clark's achieved 33 pole positions and 25 race wins from 72 starts in a quite incredible career. He won the Indy 500, took 3rd place at Le Mans and even raced in NASCAR in the US. But his career was tragically cut short when he crashed during a Formula 2 race in Germany in 1968.

Jackie Stewart celebrates winning the 1973 German Grand Prix.
Copyright: Motorsport Images

Jackie Stewart

First race: 1965 South African Grand Prix
Championships: 3 (1969, 1971, 1973)
Number of wins: 27
Number of pole positions: 17

Another Scottish legend to take to the Formula 1 grid, Sir Jackie Stewart remains a key figure in the grid. And one that's hard to miss, usually kitted out in striking Stewart tartan.

A born racer, Stewart spent his teenage years watching his father race motorbikes while his older brother Jimmy competed in the 1953 British Grand Prix. Jackie would go on to make his Formula 1 debut in 1965, and his performances were outstanding. As a rookie, he scored five podiums including a maiden win in Italy, finishing 3rd in the championship.

When he moved to Matra in 1968, he took a step up, finishing second in the standings before becoming drivers' champion the following year. His move to Tyrell in 1970 also proved fruitful, as he took the title in his second season with the team scoring six victories.

In his final Formula 1 season, Stewart would bow out in style. A hard-fought first half of the season in which Stewart and Emerson Fittipaldi shared the wins in the first six races, Stewart maintained the form and took the championship.

Upon retiring from the sport, his legacy in motorsport grew exponentially. Having seen friends in the paddock – including the aforementioned Clark – lose their lives, he focussed on making racing safer. He pressed for mandatory seat belts, full-face helmets and led boycotts of unsafe races. Regardless of his success, motorsport is a better place thanks to his efforts.

Nigel Mansell celebrates victory in Hungary in 1992.
Copyright: Motorsport Images

Nigel Mansell

First race: 1980 Austrian Grand Prix
Championships: 1 (1992)
Number of wins: 31
Number of pole positions: 32

If there's one word to sum up Nigel Mansell's racing career, it's 'determination'. He grew up in Birmingham, UK, the son of an engineer. While he had success in karting, like many of those to make this list, his family disapproved of the step into open-wheel Formula racing. While he enjoyed huge success in the junior ranks, it almost all came to an end when he broke his neck in an incident at Brands Hatch. Doctors told him he was dangerously close to losing the use of his limbs, and would never drive again.

Yeah, right. In 1980, Mansell began racing for Lotus and scored a smattering of podiums. He did produce one of Formula 1's most iconic moments. At a sweltering Dallas Grand Prix in 1984, he suffered gearbox problems and broke down with just a few corners of the final lap remaining. But in typical unwavering spirit, Mansell jumped out of the cockpit and pushed his car, eventually collapsing under the Texan sun. But it wasn't all in vain, as he caught the eye of Frank Williams.

He enjoyed success with the Oxfordshire-based team, winning races regularly and dramatically losing the title at the final race in 1986. With another runner-up season in 1987, he'd turned heads at Maranello and joined Ferrari.

Mansell wasn't able to keep up with his former rival turned teammate Alain Prost with a couple of disappointing seasons. He announced his retirement from the sport in the 1990 season, but Frank Williams wasn't having any of it.

He made Mansell an offer he couldn't refuse, and boy was he glad he didn't. The 1992 seasons saw Mansell make the most scintillating starts to a campaign, with five straight victories in a row. He won three of the next five races, and dominated winning the championship by a huge margin over teammate Ricardo Patrese. He set his sights on America the following year, joining the IndyCar series, and won the championship. He was truly a vintage driver who got better with time.

Fernando Alonso after winning the San Marino Grand Prix.
Copyright: Motorsport Images

Fernando Alonso

First race: 2001 Australian Grand Prix
Championships: 2 (2005, 2006)
Number of wins: 32
Number of pole positions: 22

What can you say about Fernando Alonso? A talented, charismatic driver from the off, Alonso has gone on to be one of the sport's elder statesmen.

He started his interest in karting when his father, an amateur go-karter and mineshaft mechanic, build Fernando and sister Lorena a go-kart so he had a hobby to share with his children. While Lorena wasn't interested, Fernando shined under all circumstances – including racing in the rain on slick tyres as the family couldn't afford wet weather alternatives.

These experiences shaped his early career and eventually led him to take a seat with Minardi in 2001. After a year bringing up the rear of the pack, Alonso went on to join Renault and in 2005, he made history. Breaking Michael Schumacher's streak of five world championships in a row, Alonso became the youngest driver to ever win the championship. The next year, he became the youngest to score back-to-back championships.

While his career had its highs, it also had its lows. A stint at McLaren saw him struggle to battle rookie Lewis Hamilton and on three occasions he came within a whisker of winning a third championship with Ferrari. When he raced for a McLaren team on the downturn in 2015 – 18, it looked as if his Formula 1 career was going to end unceremoniously.

He left the sport in 2018 and went on to win Le Mans on two occasions. Then in 2021, Alonso made a shock return to the sport, at the team he had his greatest successes: Alpine, the team formerly known as Renault. The greatest moment of his comeback so far came at the 2021 Hungarian Grand Prix, when holding off a much faster Lewis Hamilton on fresher tyres allowed teammate Esteban Ocon to record the re-branded team's very first win. It's not over for Alonso just yet.

Ayrton Senna celebrates winning the 1991 Belgian Grand Prix.
Copyright: Motorsport Images

Ayrton Senna

First race: 1984 Brazilian Grand Prix
Championships: (1988, 1990, 1991)
Number of wins: 41
Number of pole positions: 65

Senna was one of the greatest inspirations to race cars, and the only driver in this list not to hail from a European country. He was born in Sao Paolo to a wealthy factory owner and excelled when he began racing go-karts aged 13, usually beating competitors years older than him. To push for success in motorsport, Senna relocated to England to race in single-seaters.

After he won the British Formula 3 Championship in 1983, he took the step up to Formula 1 in 1984. He raced a comparatively uncompetitive Toleman to ninth place in the championship, before finishing third in '85 and '86, registering his first win in Portugal in 1986.

Following a spell at Honda, his greatest successes came with McLaren where he would form an intense rivalry with teammate Alain Prost. The pair dominated the 1988 season, both winning all but one race with Senna the victor. Prost took victory in 1989, courtesy of a highly controversial crash in the season's penultimate race, which saw the Brazilian disqualified.

Prost moved to Ferrari the next year, but both drivers remained the main protagonists. It once again came down to the penultimate race in Japan where, yet again, the rivals collided. That meant Prost couldn't mathematically win the championship, and Senna was crowned with his second title. He followed it up with a consecutive championship for McLaren, the third of his career.

Senna raced with Williams in 1994, but tragically lost his life in a high-speed crash during the San Marino Grand Prix. Formula 1 had prematurely lost one of its greats, but he had left a legacy that would never be forgotten.

Alain Prost celebrates the 1986 Australian Grand Prix.
Copyright: Motorsport Images

Alain Prost

First race: 1980 Argentine Grand Prix
Championships: 4 (1985, 1986, 1989, 1993)
Number of wins: 51
Number of pole positions: 33

Despite registering four World Championships and more than 50 wins, Alain Prost's success could have been even greater. His name has cropped up in the stories of drivers we've already told, because Prost was consistently at the front of the grid.

He began go-karting at aged 14, when he discovered the sport during a family holiday. His F1 career started at McLaren in 1980 with a disappointing campaign, but it kicked into life when he signed for Renault. He took his first few wins in 1981, and finished 4th in the drivers' championship in 1982. But his career took a huge step in 1983, when he pushed Brabham's Nelson Piquet all the way and finished within two points of the title win.

In 1984, he battled with Niki Lauda finishing within half a point of the title. But he got the better of Mansell, Senna and Piquet in the next two years to become a double-world champion. He then became embroiled in the ultimate rivalry with Ayrton Senna, taking the title in 1989.

After a two-year stint at Ferrari, Prost moved to Williams to sign-off from Formula 1 in style. Winning seven of the 16 races in the 1993 season, he took championship glory before retiring.

Sebastian Vettel celebrates victory for Ferrari in Belgium in 2018.
Copyright: Motorsport Images

Sebastian Vettel

First race: 2007 United States Grand Prix
Championships: 4 (2010, 2011, 2012, 2013)
Number of wins: 53
Number of pole positions: 57

Sebastian Vettel began his karting career aged eight, and was impressed enough to be promoted to the Red Bull Junior Tea aged 11. He made his debut in 2007 as a stand-in for Robert Kubica after his massive Canadian Grand Prix crash midway through the season. After a fine eight-place finish, he was brought into the Toro Rosso team to replace Scott Speed, and narrowly missed out on a historic podium at the Chinese Grand Prix.

But history beckoned for the young German. At the Italian Grand Prix, aged 21 years and 74 days, Vettel became the youngest driver to take pole position after a wet qualifying session. He backed this up with an unbelievable maiden win, becoming the youngest driver to win a Formula 1 Grand Prix.

He was quickly fast-tracked to the senior Red Bull Racing team, finishing runner-up to Brawn GP's Jenson Button in 2009. But Red Bull dominated come the turn of the decade, and Vettel pushed the team to four consecutive championships. His drivers' titles didn't come without struggle, however. Seb had an infamously difficult relationship with teammate Mark Webber, but Vettel's results spoke for themselves.

After the move to hybrid cars, Vettel moved to Ferrari in 2015 and enjoyed a few title battles with Lewis Hamilton, but the Mercedes proved too powerful throughout the turbo-hybrid era.

Vettel recently moved to the newly-branded Aston Martin F1 team, recording the team's first podium in Azerbaijan in 2021, and narrowly missing out on a second at the Hungarian Grand Prix.

Michael Schumacher celebrates his third championship and his first with Ferrari.
Copyright: Motorsport Images

Michael Schumacher

First race: 1991 Belgian Grand Prix
Championships: 7 (1994, 1995, 2000, 2001, 2002, 2003, 2004)
Number of wins: 91
Number of pole positions: 68

A racer who some thought would never be surpassed. For many, he will remain the greatest to ever drive a racing car. Michael Schumacher had everything to make him the perfect racer: speed, focus, bravery, judgement, character and arrogance.

His F1 career began when Eddie Jordan handed him an opportunity at the 1991 Belgian Grand Prix, after Bertrand Gachot was sentenced to two months in prison for assaulting a taxi driver. He raced the remainder of the season with Benetton, who he began to gain traction with throughout the early 1990s.

Schumacher took his first World Championship with Benetton in 1994, pipping Williams' Damon Hill by one point to his first title. The pair battled it out again the following year, with Schumacher taking his second title. (Hill did manage to win his only title in 1996.)

Schumacher didn't come without his controversies. He was disqualified from the entire 1997 season when he attempted to knock Jacques Villeneuve off the circuit at the final race of the season, leaving him the champion. But the move backfired. Schumacher's car was damaged, and Villeneuve went on to finish in the points.

The German's storming success came at the turn of the millennium. Ferrari produced cars that were head and shoulders ahead of the rest of the field, and Schumacher was the man who knew how to extract every ounce of performance. Perhaps his best-ever season was his final season in 2004, when he won 12 of the first 13 Grands Prix, the exception being a retirement in Monaco.

He retired in 2006, but shook the racing world when he returned to the grid in 2010 with Mercedes. He was rarely at the front of the pack, but enjoyed his racing as much as ever, recording his final podium at the European Grand Prix in 2012. The Schumacher legacy continues in Formula 1, with son Mick making his debut for the Haas F1 team in 2021.

Lewis Hamilton celebrating victory at the 2021 British Grand Prix.
Copyright: Motorsport Images

Lewis Hamilton

First race: 2007 Australian Grand Prix
Championships: 7 (2008, 2014, 2015, 2017, 2018, 2019, 2020)
Number of wins: 99
Number of pole positions: 101

There were records some thought would never be broken. But then, Lewis Hamilton hit the scene.

Before he went into karting, Hamilton raced remote controlled cars, beating adults to championships when he was just a kid. He carried that success into karting and – where some successful young drivers are hit with a dose of reality when they reach the highest levels of sport, Hamilton continued to dominate.

In just his first season with McLaren, he lost to eventual champion Kimi Raikkonen by a single point. He made amends in 2008 with his first World Championship, but only just. A tightly contested battle with Felipe Massa culminated at the final race in Interlagos for the Brazilian's home race. When Massa crossed the line and ended his season, he was at the top of the championship standings. But Hamilton was gifted the championship by a point when Timo Glock's car slowed on the final tour of the circuit. Up there with Sergio Aguero's final-minute goal to seal Manchester City's Premiership in 2012, this is up there with the greatest last-gasp title wins ever.

The years that followed were relatively anonymous for Hamilton, but his career stepped up a gear when the regulations changed in 2014. Mercedes mastered the turbo-hybrid regs, and no other team has won a championship throughout this period in history. Hamilton seemingly always had the better of his teammate Nico Rosberg, until their rivalry erupted in 2016. Rosberg took the title at the final race, before retiring from the sport altogether.

That opened the door for Hamilton's dominance to flourish. He's won every title since, has become the only driver to record over 100 pole positions, and is nearing the same triple-figure feat in race wins.

He's showing no sign of slowing down, and with his latest battle with Max Verstappen reaching fever pitch, the legacy continues to be written.