Thinking about roadtripping to the Austrian Grand Prix? Check out this best route, with five stops through Belgium, Germany and Austria.
Set in the glorious hills of Styria, the Austrian F1 Grand Prix and Austrian MotoGP are two of the most picturesque races of the year. Whoever decided to drop one of the fastest racetracks in the world against the mountains is a genius.
This makes it a must-see race for road-trippers and campers alike. With a few hotels in local Spielberg, camping is popular amongst race fans. The best way to ensure you're camping in comfort is to load up the car, and drive to the circuit.
This road trip route starts in Brussels, and makes three stops in Germany before you hit authentic Austria. Taking only 13 hours without a stop, you can make as many pit stops as you like.
Whether it's to drop into a motorsport museum, take your car for a spin around a classic track, or a swift German pint, you can make this trip your own and see as many of the sights as you need to.
You'll arrive in Austria having learnt a thing or two about racing, history and beer before experiencing a race that's all about speed and adrenaline. Check out the road trip route to the Austrian Grand Prix below.
Book tickets to the Austrian Grand Prix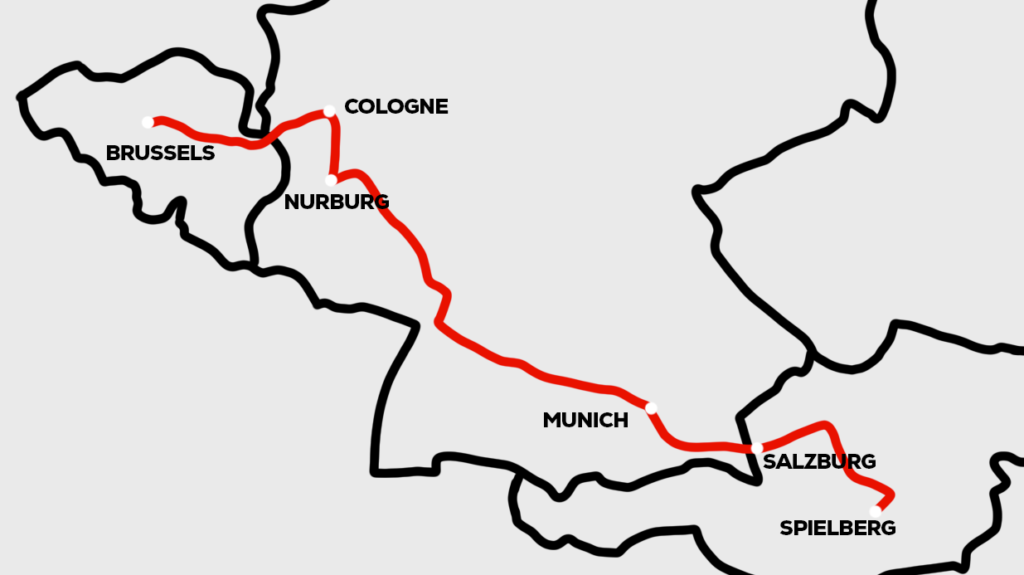 Five stops to make on a road trip to the Austrian Grand Prix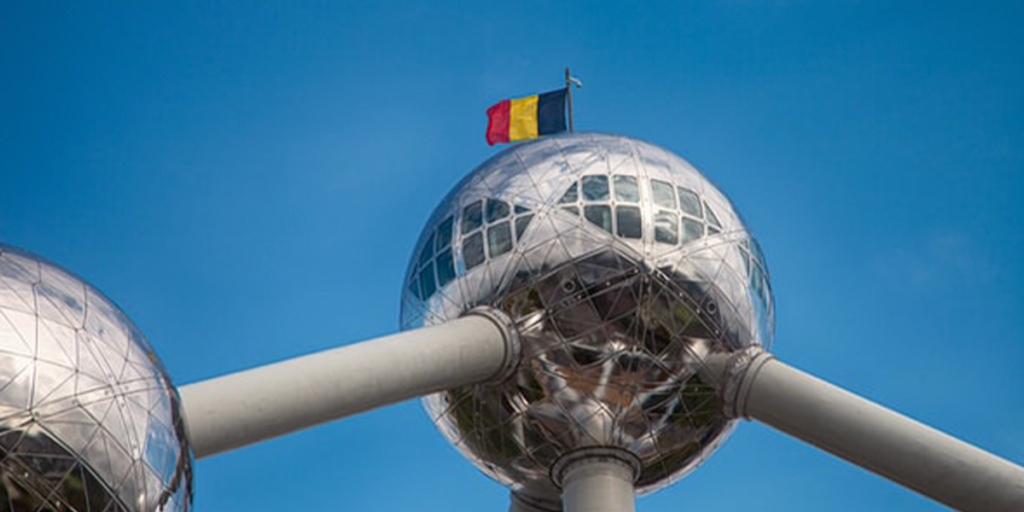 Brussels
Take a quick stop in Brussels to refuel for your journey – we suggest mussels and chips, waffles and chocolate. But while you're there, why not uncover a lesser known piece of racing history.
In the present day, Heysel Park in Brussels is known for the huge Atomium. Originally constructed for the 1958 World Fair, it is five habitable spheres connected by stairs and escalators encased in metal tubes.
But four years after its construction, the park was transformed into a race circuit. Jim Clark, Stirling Moss and Graham Hill were just three of the drivers to take part in the non-championship race. The format was far from what you'd expect in a modern F1 race. Three heats of 22 laps were raced, with each driver's results aggregated, and Belgian Willy Mairesse taking the win.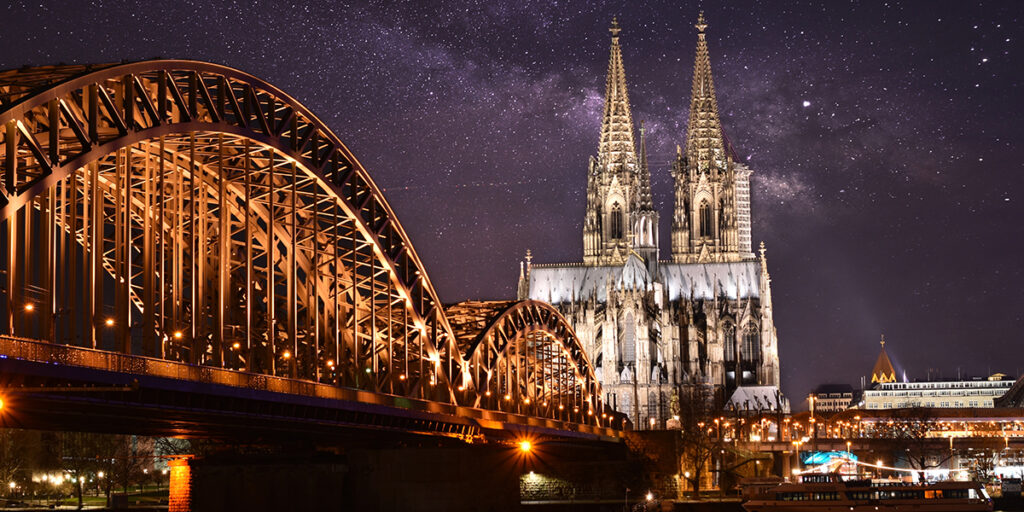 Cologne
Cologne is one of Germany's most historic cities, dating back to 38BC. One of its main sights, Cologne Cathedral, was completed in 1880 after 500 years of construction. Menacing and gothic, it overlooks the entire city and is a defining symbol of the city.
Other sights include the KölnTriangle, a huge skyscraper which overlooks the city on the river. While you're there check out the Mongolian BBQ restaurant while you take in the views.
But for car fans, you'll want to book in a tour of the Toyota Gazoo Racing Museum. This secretive facility is a car lover's dream. Essentially a giant, expensive garage, it houses Le Mans-winning cars, World Rally Champions, and a heap of Toyota F1 cars. There's nothing that will get you in the mood for the race like a walk around here.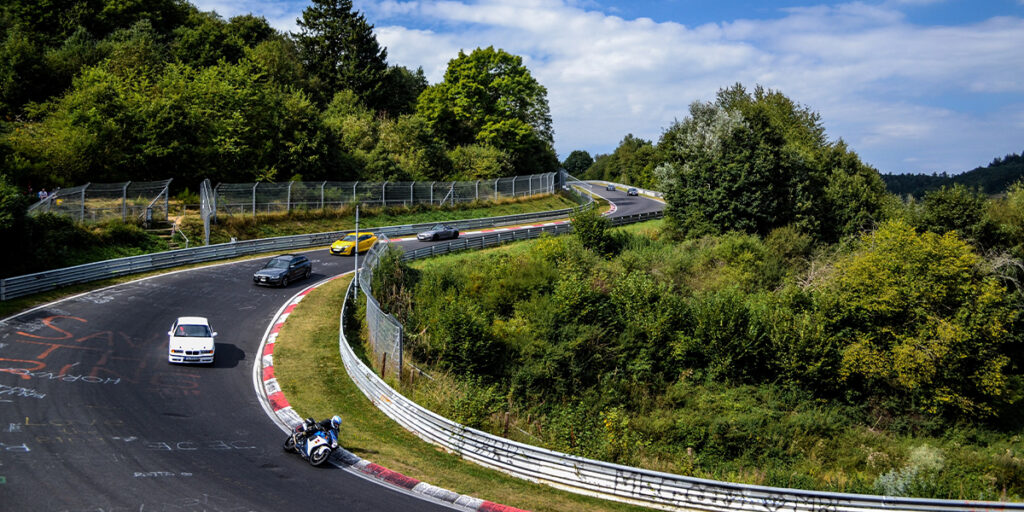 Nurburg
If there's one stop you have to make on the ultimate motoring road trip, it has to be Nurburg. Home to the legendary Nürburgring, this place is a temple for racing fans. Once nicknamed "The Green Hell" by Jackie Stewart, enthusiasts from far and wide make the pilgrimage here for an unforgettable driving experience.
While the Grand Prix track is hosting 2020's Eifel F1 Grand Prix, the Nordschleife circuit is the real attraction: just under 21km of undulating, twists which the most talented in the world take at dizzying speeds.
There are a variety of ways to experience this amazing track. From track walks to sports car laps with professional drivers, you can take it at your own speed. But what better way to crown your road trip car than taking it for a tourist lap itself. For as little as €25, you can christen your machine with a lap you'll never forget.
The town of Nürburg is a quiet one, but not a bad place to unwind with a beer after the lap of your life.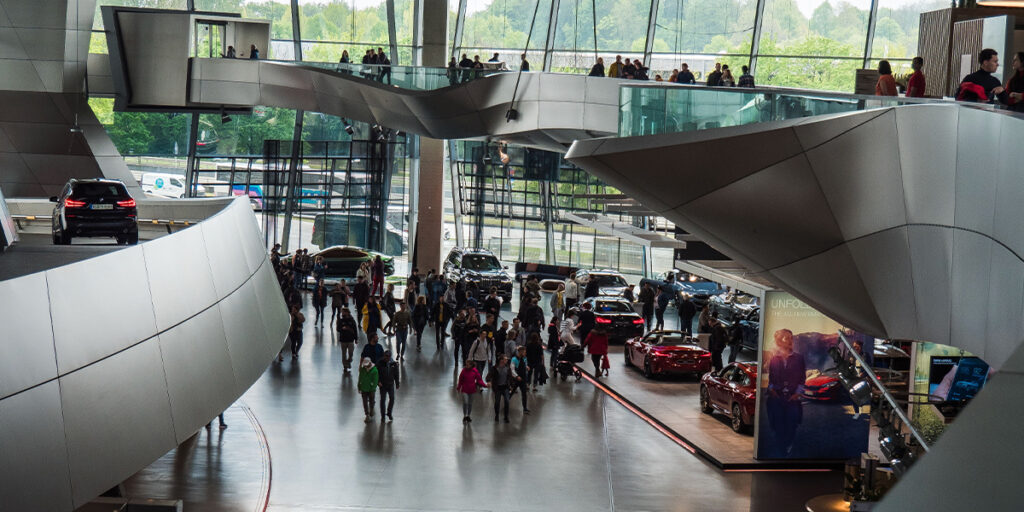 Munich
You've just travelled from Belgium through Germany, and about to cross the border into Austria. You deserve a beer.
No better place for it, then, than Munich. Famed for Oktoberfest, the beer flows all year long. The Viktualienmarkt, one of the famous markets in the city, has a huge beer garden at its centre. Wander round the artisan market stalls, fill up your Maß with a brew, and sink a few before the final stretch of your journey.
Having checked out the secret Toyota Gazoo museum in Cologne, you won't be able to miss a trip to BMW Welt in Munich. A hug facility, it has exhibitions showcasing the company's history in cars, motorbikes and it's future visions. But it also celebrates the brand's heritage in motorsport, with exhibits on F1, touring cars and bikes.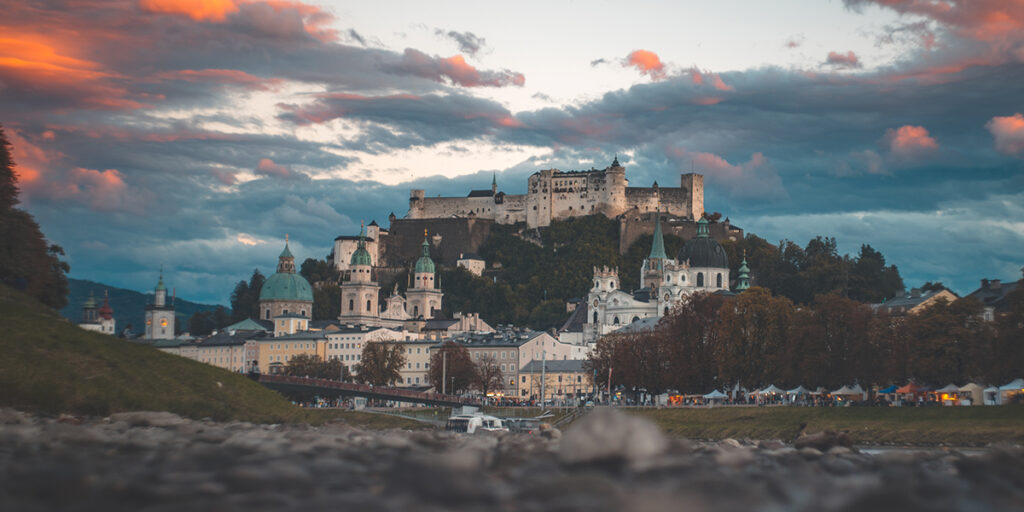 Salzburg
The Red Bull Ring is in the remote Austrian town of Spielberg, and its remote location is what gives it its charm. But before you hit the track, experience some Austrian traditions in Salzburg.
The whole city is a UNESCO World Heritage Site, with plenty of perfectly preserved Baroque monuments. Cathedrals, gardens and churches aplenty, Salzburg feels like stepping back in time.
But if you only have time for one stop in Salzburg, make it the Hohensalzburg Fortress. Built in 1077 to protect the city from attack, it is one of the largest medieval castles in Europe. And don't let the fact it's 500m above the city – you can hop on the Festungsbahn Funicular which will zip you up the hill in a minute.
From Salzburg, you're just a two-and-a-half hour drive from the Red Bull Ring and the Austrian Grand Prix.
Ready to go? Book your Austrian Grand Prix tickets now