Check the Azerbaijan Grand Prix session times, circuit facts, weather report and support races for the Formula 1 event in Baku.

From one street race straight into the next, as the Azerbaijan Grand Prix gets underway in Baku.
It would be unfair to expect drama from this Grand Prix, but there is form. More than half of the races at Baku have seen safety car deployments – with six in the last five races. Tyre blowouts, explosive overtakes, qualifying drama… it's a race that almost always delivers.
It's not a race either of the championship protagonists will particularly look forward to. Max Verstappen has had nailed-on wins explode before his eyes and crashed with teammates in the past. Leclerc has qualified on pole here before but has also fallen victim to the circuit's tight, twisting walls.
To make sure you're on top of all the action, including circuit maps, session times, support series, weather forecast and the latest news from the weekend, check out this guide with all the information you'll need.
Azerbaijan Grand Prix race preview
The Azerbaijan Grand Prix Circuit
Baku City Circuit
At 3.7 miles, the Baku City circuit is the second-longest track in Formula 1 – only Spa-Francorchamps is longer. However, it will be overtaken by the Jeddah Street Circuit in Saudi Arabia later this year.
There are 51 laps during the race, which takes in 12 corners to the left, and 8 to the right. There are two DRS zones including one along the longest straight in Formula 1 – the pit straight measures 2.2km. That's a whopping 37% of the lap. That makes turn one a mega overtaking opportunity – just ask Daniel Ricciardo about 2017 when he over took three cars in one move on his way to victory. (Just don't ask him about 2018, when he crashed into his teammate Max Verstappen there.)
One place there certainly won't be any overtaking is turns 8 – 12. The cars slow right down to navigate the narrowest section in Formula 1 at just 7m wide as they pass through the Palace of the Shirvanshahs. A Formula One car is only two-meters wide, so the drivers have to be on the edge to get through safely. Push too hard, and you'll end up like Charles Leclerc in 2019, when he crashed in Q2.
Take a look at this virtual on-board lap courtesy of Motorsport.tv to get a feeling for the race.
What happened at the last Azerbaijan Grand Prix?
Azerbaijan Grand Prix 2021
The return of the Azerbaijan Grand Prix in 2021 was one of the season's wackiest races. Despite Leclerc qualifying on pole ahead of Hamilton and Verstappen, it was the Red Bull driver who found himself leading the race by lap 12. The Mercedes and Red Bull duly passed Leclerc's prancing horse, but it was crucial early pit stops that saw the championship contenders swap positions. A slow-release for Hamilton, and a faultless stop for Verstappen saw the Dutchman overcut the seven-time champion. Perez was also able to pass Hamilton in the pits to set up a Red Bull 1-2.
On lap 30, a pivotal moment of the race came when Lance Stroll's Aston Martin was struck by a puncture on the long pit straight. He dramatically crashed out, and the safety car was deployed.
On its release, Perez and Hamilton would squabble for 2nd, as Gasly, Vettel and Leclerc fought behind them. This allowed Verstappen to build a healthy lead, until he suffered the same fate as Stroll – a huge tyre blowout at 200mph. The red flag was thrown, setting up a two-lap shootout.
Perez started ahead of Hamilton, but the Mercedes got the better getaway, steaming ahead of the Mexican. The problem, however, was stopping. Having left a key switch on his Mercedes, Hamilton was unable to slow his car down and drove straight off the track, placing him plum last.
Perez pushed towards his first win for his new team, as Gasly and Leclerc battled for the final place on the podium. In the end, a breathless Grand Prix finished Perez, Vettel, Gasly.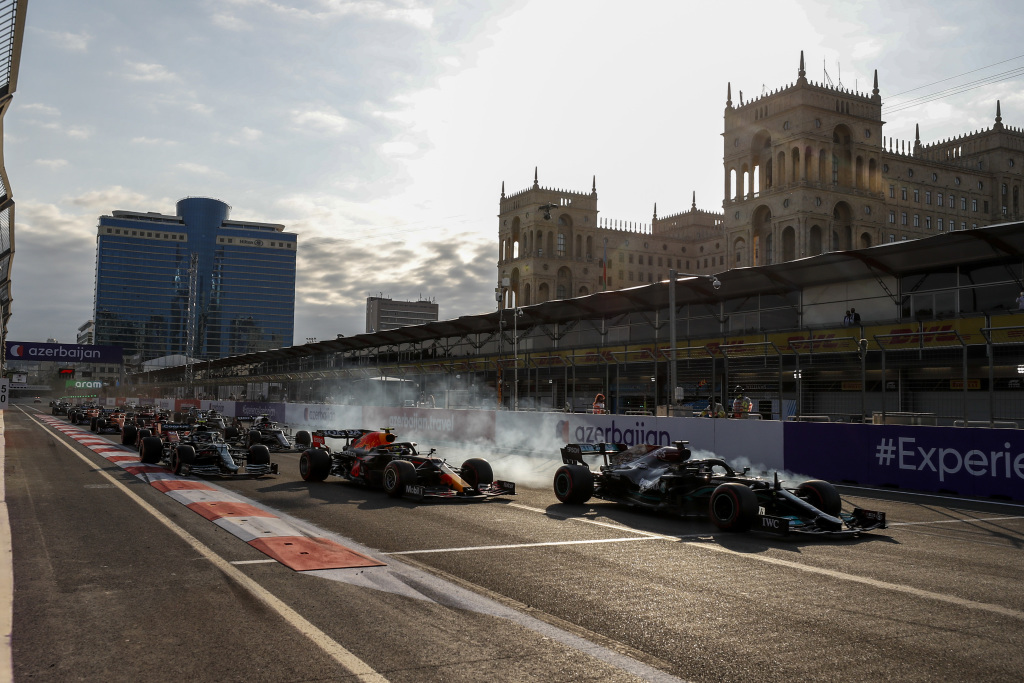 Azerbaijan Grand Prix session times
Azerbaijan is four hours ahead of Greenwich Mean Time, and Azerbaijan Standard Time (AZT) is the same as United Arab Emirates Standard Time. The race will begin at 1pm British Standard Time, and as late as 4pm local time.
| Session | Day | Session time (AZT local) | Session time (BST) |
| --- | --- | --- | --- |
| Free practice 1 | Friday | 15:00 – 16:00 | 12:00 – 13:00 |
| Free practice 2 | Friday | 18:00 – 19:00 | 15:00 – 16:00 |
| Free practice 3 | Saturday | 15:00 – 16:00 | 12:00 – 13:00 |
| Qualifying | Saturday | 18:00 – 19:00 | 15:00 – 16:00 |
| Race (51 laps) | Sunday | 15:00 – 17:00 | 12:00 – 14:00 |

Azerbaijan Grand Prix session times
Azerbaijan Grand Prix weather report
There has never been a wet race in Azerbaijan, so expect high temperatures and sunny skies on race day.
BAKU WEATHER
Race support at the Azerbaijan Grand Prix
There will be one support series in action during the Azerbaijan Grand Prix weekend. F2 will return for its third round of the season, following races in Bahrain and Monaco. It will be the fifth time F2 has raced at Baku, as GP2 supported the 2016 European Grand Prix.
Formula 2
Baku represents the halfway point of this FIA Formula 2 season. Felipe Drugovich recovered from a poor sprint race in Monaco to score maximum points in the feature race, and stay above his closest rival Theo Pourchaire. But they are the pair steaming away from the rest of the field, as they are the only drivers to win the feature races in 2022. As we come to the 50% point of the season, Pourchaie will be hoping to close the gap starting with Baku.
| Session | Day | Session time (AZT) | Session time (BST) |
| --- | --- | --- | --- |
| Practice | Friday | 12:35 – 13:20 | 09:35 – 10:20 |
| Qualifying | Friday | 16:30 – 17:00 | 13:30 – 14:00 |
| Sprint race (21 laps or 45′) | Saturday | 13:30 – 14:20 | 10:30 – 11:20 |
| Feature race (60 laps or 45′) | Sunday | 11:35 – 12:40 | 08:35 – 09:40 |
F2 session times at the Azerbaijan Grand Prix
How to stay up to date at the Azerbaijan Grand Prix
The Azerbaijan Grand Prix weekend is one of the busiest of the year, but fear not, Motorsport Network has you covered. You can keep up-to-date across all the breaking news by following Motorsport.com throughout the race weekend.