Whether you are travelling by car, train or air, this guide will help you discover everything you need to know about getting to Spa-Francorchamps
Getting to Spa-Francorchamps is not the easiest of Grand Prix journeys, due to the track's rural setting. This is the reason many fans choose to camp for the weekend. However, the fact that Belgium is a relatively small country, and surrounded by major airports in several different neighbouring countries does work in Spa's favour.
You can fly into Germany, Luxembourg, Netherlands or of course the Belgian capital Brussels. Flying to a nearby country could give you the option to make the most of the trip and enjoy a roadtrip across European borders.
However you decide to get to Spa-Francorchamps, let us be your guide to the 2024 Belgian Grand Prix trip.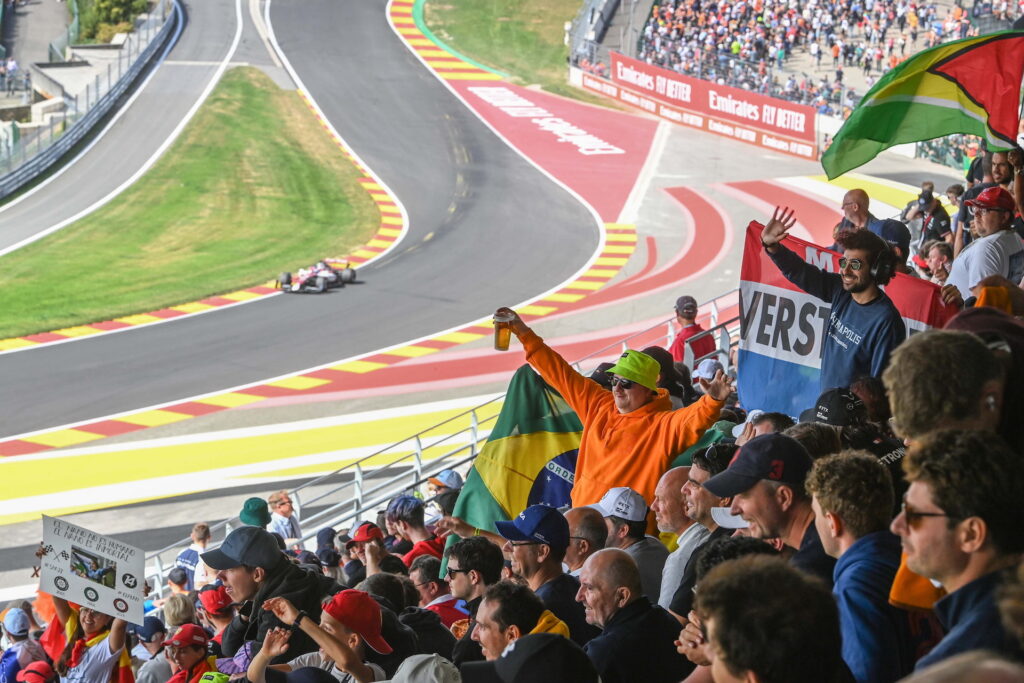 Where is Spa-Francorchamps?
Spa-Francorchamps is located in the east, French-speaking part of Belgium. Just outside the town of Spa, the circuit is in the village of Francorchamps, 140km southeast of Brussels. The closest city is Liege at around 50km away. Despite being almost a two hour drive from the country's capital, Spa-Francorchamps is well located to welcome visitors from neighbouring European countries.
The Belgian Grand Prix attracts a lot of German visitors, as it is only around 32km from the border. To the south, Spa-Francorchamps is just 47km away from Luxembourg, and to the north sits the Netherlands, just 42km away. To the west the French border is about as far away as Brussels. As France hasn't had a Formula 1 Grand Prix since 2022, fans tend to travel to nearby Belgium to get their F1 fix.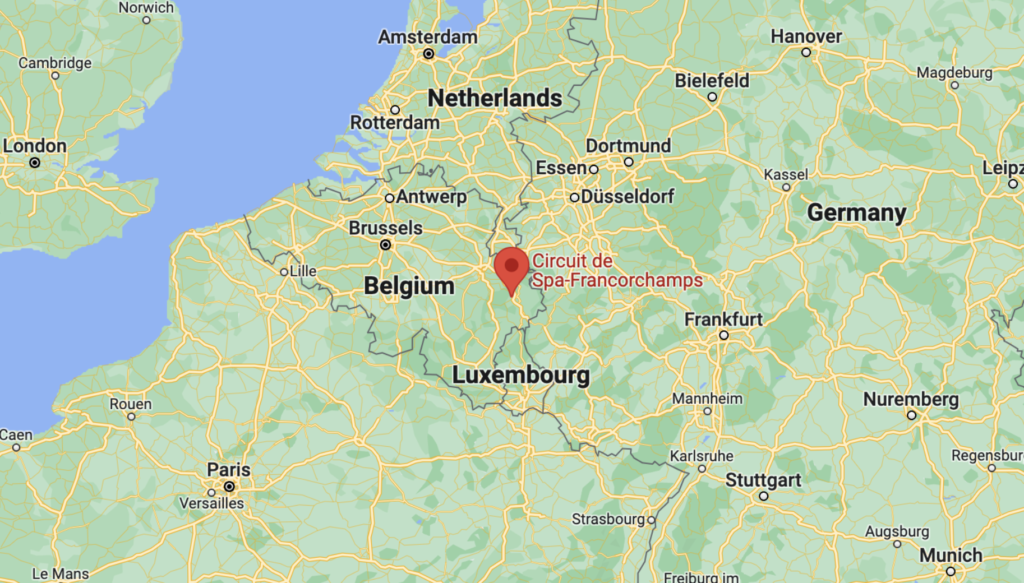 Travelling the the Belgian Grand Prix by car
The relatively rural location of the Spa-Francorchamps circuit means that the Belgian Grand Prix is an ideal opportunity for a spectacular European roadtrip. Many fans opt to drive, especially as camping is such a popular form of accommodation and people want to bring their equipment with them.
For those travelling from the UK, the Dover to Dunkirk link is the best option and tickets can be bought on the DFDS website.
One thing to be prepared for is that the narrow, rural roads around Spa were not designed for the volume of cars that the Grand Prix draws – be prepared for traffic!
Parking at the Belgian Grand Prix
Parking passes are not on sale yet but can be bought on the Spa website and tend to cost around €25. Car park spaces must be bought ahead of arrival and will not be available on the day at the circuit.
The map below outlines the parking plan for the Belgian Grand Prix.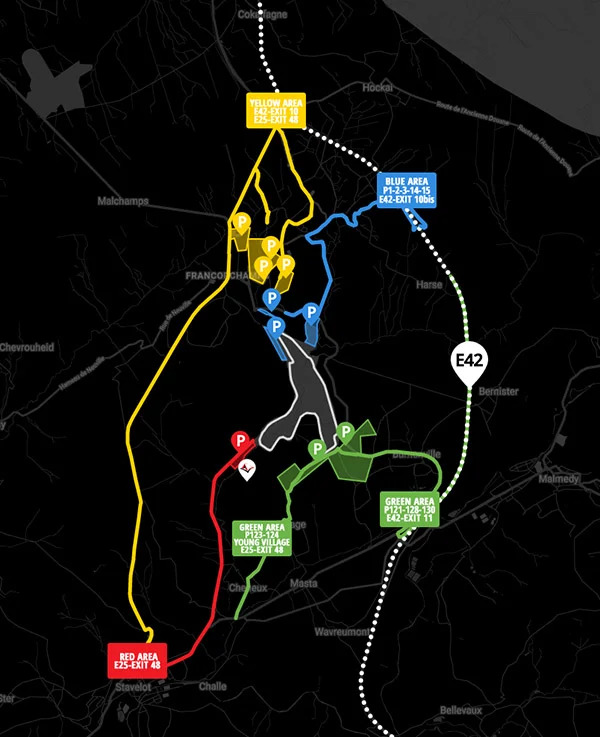 Travelling to the Belgian Grand Prix by bus or train
Travelling to the Belgian Grand Prix by train is very much an option, and thousands choose to travel this way on race day. You will also need to take a bus at the other end and then walk a final 15 minutes.
However, there are numerous trains linking many of Europe's major cities, meaning that fans coming from Germany, Luxembourg, France and the Netherlands may even be able to sleep in their own bed each night.
What's the nearest train station to Spa-Francorchamps?
The closest major train station to the Spa-Francorchamps circuit is Verviers Central, which is around 20km from the track. Spa-Geronstere is closer, just 10km from the circuit, but has much fewer links to major cities.
Once you're at the Verviers station you will then need to take a bus (number 395 or 294) to the circuit. Then it is just 15 minutes walking to the circuit (La Source entrance). The bus takes around 35 minutes and tickets cost €20 for unlimited travel over the weekend, or €10 for the day.
For fans coming from Luxembourg, the trains arrive into Trois Ponts station, and the 294 bus connects the station to the circuit.
City shuttle buses
A slightly cheaper way to attend the Belgian Grand Prix is to take a coach, known as the city shuttle buses. It is also the ideal way for fans who live a drivable distance from the track not to have to worry about parking or having a few drinks at the Grand Prix. There are several city shuttle buses that link neighbouring major cities across five different nations with the track.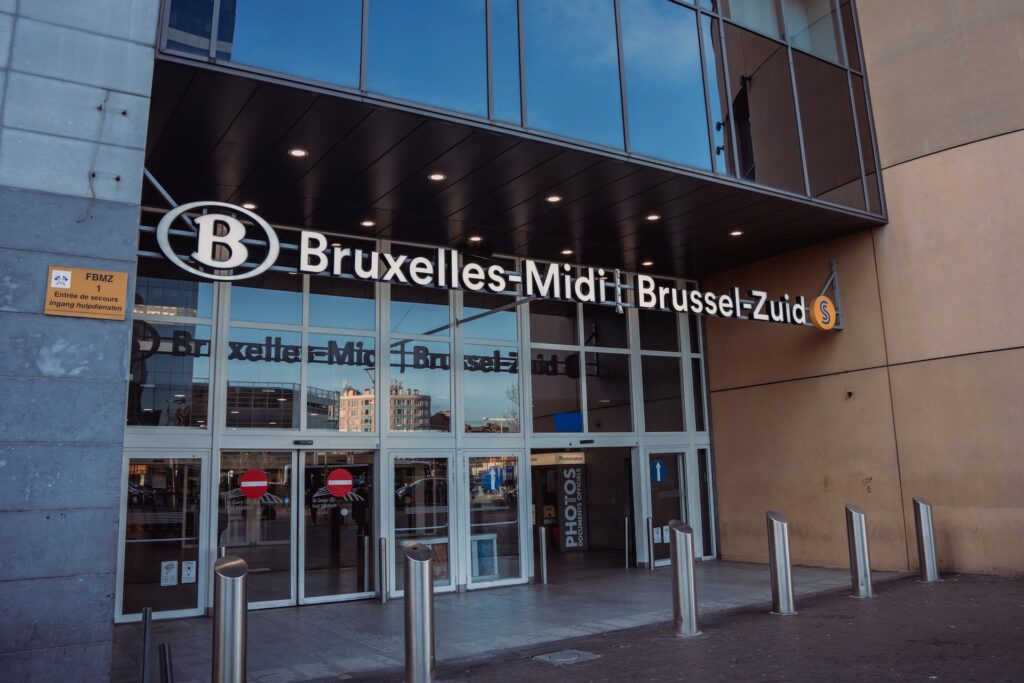 The departure locations are spread across five different countries and include: Bruxelles-Midi, Bruxelles-Nord, Lille, Luxembourg, Liège, Aix-La-Chapelle, Anvers, Charleroi, Maastricht, Mons, Namur, Düsseldorf and Eindhoven.
The buses aim to arrive at the circuit at 9am (which means an early start for most) and leave the circuit for the return journey at 7pm.
As the tickets for 2024 are not yet available to book, the pricing remains to be confirmed but in 2023 return tickets cost around €55, except Lille (France) which cost €85. These coach trips can take up to four hours, especially factoring in race day traffic.
Tickets can be bought on the Spa website here.
Travelling to the Belgian Grand Prix by air
As we have already covered, Spa is bordered by several different European nations, meaning that international travellers have a choice of airports to fly in to. However, all are an hour's drive away at the very least, with most being much further.
The closest airport is Maastricht Aachen (MST) in Germany. This sits at just 80km from the circuit but will only really be good news if you're flying from Barcelona or Alicante as it has very limited international flights.
Many fans opt to fly into Luxembourg Airport (LUX), which is 110km south of Spa and is served by British Airways from Heathrow. There are also trains and city shuttles available from Luxembourg to Spa. If you don't want to camp, this could be an ideal location to base yourself for the weekend.
Cologne Bonn Airport (CGN) is a little further away, but also enjoys good air and ground connections to the circuit.
Around the same distance away as Cologne is Brussels Airport (BRU), the main international airport for Belgium. Those flying from further afield (Middle East, USA etc) will most likely be touching down here. Many European fans will land in Brussels South Charleroi Airport (CRL), also around 140km from Spa-Francorchamps. From Brussels, you can take trains or city shuttles to the circuit. See previous sections.
Another German option is Dusseldorf Airport (DUS). It is a little further away still, but enjoys decent connections worldwide.
If you don't mind travelling the extra mile, Dortmund Airport (220km), Amsterdam Schipol Airport (280km), Frankfurt Airport (300km) and Paris Charles de Gaulle Airport (400km) are also options with good international connections from all over the globe. You may also want to rent a car at these airports and drive to Spa.
How to get to Spa-Francorchamps from the UK
Thousands of Brits make the trip south to Belgium to visit one of the most iconic tracks on the Formula 1 Calendar. Spa-Francorchamps is also the closest foreign race (along with the Dutch Grand Prix) for UK F1 fans. There are two main ways to travel from the UK to Spa.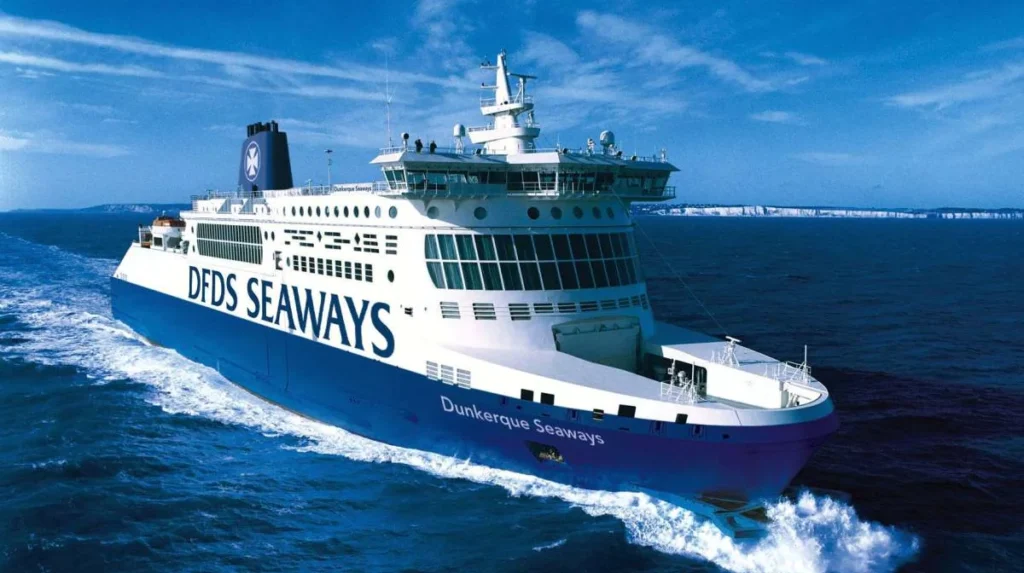 You can take a car on the ferry from Dover to Dunkirk or Calais. Some choose to allow a bit more time and take in the historic sites of the Second World War. There are two main routes down to Spa, one passes very close to the picturesque Belgian towns of Ghent and Bruges – well worth a pitstop.
The other passes through France where you can take a break in Lille.
You can also drive through the Eurotunnel from Folkestone (Kent) to Calais. There are around four services per hour. The trip takes just 35 minutes and costs around £50 – not bad if there's a group of you.
Driving to Spa from London is easily manageable in a day. The distance is around 330 miles (530km) and nonstop with minimal hold-ups you could do it in seven to eight hours.
If you won't be taking a car the trip may be even easier. Londoners can catch the Eurostar from St. Pancras and be in Brussels in just two hours, without the headache and hassle of airport queues and security.
From Brussels it's then a simple trip onto Spa via train or bus. See previous sections.
How to get to Spa-Francorchamps from Brussels
For the Brussels based Formula 1 fans, getting to Spa is relatively straightforward. Should you choose to drive, the trip is around one hour and 40 minutes. It is well worth setting off early to prepare for traffic, or avoiding travelling at peak times. Remember to book parking beforehand as permits will NOT be available to buy on the day.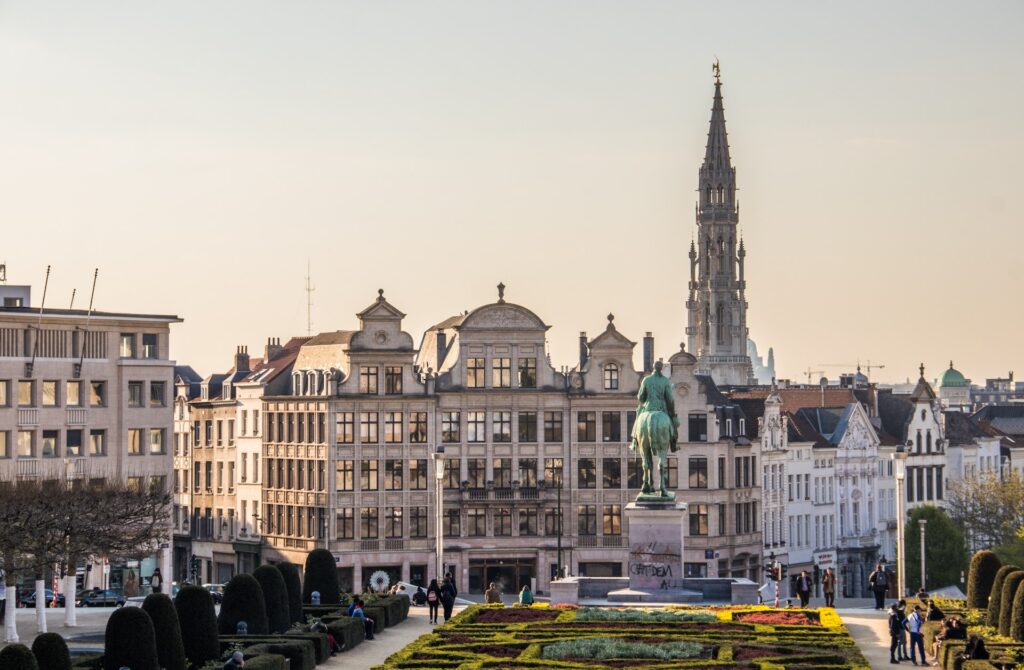 Trains to Verviers from Brussels take between 1h15m and 2h depending on the service and leave regularly. You will need to catch a black shuttle bus at the other end, which should be included in your train fare.
There are also city shuttle bus options which must be booked in advance and leave from Bruxelles-Midi and Bruxelles-Nord.
How to get to Spa-Francorchamps from Liege
Liege is the closest city to the circuit, just 50km away. It is around a 45 minutes drive from Spa, and with accommodations options a plenty, many who are less inclined to camp like to base themselves here.
A short train ride will take you halfway to the track to the station of Verviers (prepared for it to be very busy in peak times) from where you can then hop on one of the shuttle buses.
Book tickets to the 2024 Belgian Grand Prix
Now you're familiar with the transport links to the circuit, you are well-armed to book your place at one of F1's most iconic races. Get your 2024 Belgian F1 Grand Prix tickets here and start planning this bucket list trip!