Check the Hungarian Grand Prix session times, circuit facts, weather report and support races for the Formula 1 event in Budapest.

Last season's Hungarian Grand Prix was easily one of the wildest races of the season. A maiden winner, big crashes, battles for the victory, disqualifications, rain… it had it all.
This weekend, racing returns to the Hungaroring for a weekend of action. The new era of Formula 1 cars has seen greater overtaking on all circuits. The Hungaroring is renowned as a tricky track to make a pass at, so this weekend will be a good indicator of the cars' capabilities.
One driver who will hope his car is working at maximum potential is Max Verstappen. With a victory here, Max could theoretically win the title without taking another victory this season.
There are also pivotal races in the support series: Formula 2, Formula 3 and W Series.
To make sure you're on top of all the action, including circuit maps, session times, support series, weather forecast and the latest news from the weekend, check out this guide with all the information you'll need.
Hungarian Grand Prix race preview
Important information for fans attending the race
Current legislation dictates no immunity certificates are required for access.
There is also no requirement to wear a mask in public places.
If you will be at the circuit on Thursday and wish to take part in the pit lane walk, you will need to purchase a ticket. These tickets are available to weekend ticket holders for €25. You will be required to present both a weekend ticket and a pit lane walk ticket to gain access.
The pit lane walk will take place between 16:00 and 19:00. Fans will pick up wristbands from the car park opposite the MOL petrol station. Wristbands will then be checked at Gate 8
The following items are not allowed in the circuit: objects or devices defined by law as particularly dangerous to public safety; stabbing or cutting instruments; authoritarian symbols; glass; drones; segway; bicycles; scooters; skateboards; electric or explosive motorcycles; pyrotechnics; laser devices; seating of any kind; coolers; rucksacks over 20 litres; parasols and any other object that can be used as a weapon and/or that may endanger public safety. Umbrellas can be taken into the circuit, but not the grandstands – it is recommended to take a rain jacket instead
The local currency of Hungary is the Hungarian forint (HUF). The exchange rate is roughly 1 GBP : 477 HUF.
In case of emergency, the general emergency phone number is 112. Hungary also has its own emergency numbers: for ambulance it's 104, fire brigade is 105 and police is 107.
There are also two numbers that operate in the English language. You should save these to your phone before you travel.
English crime hotline: +36 1 438 8080
English medical assistance: 06-1-2400-475
Circuit map
Hungarian Grand Prix F1 session times
The Hungarian Grand Prix will consist of three practice sessions, one-hour of qualifying, and a two-hour race. Hungary is on Central European Summer Time, which is one hour ahead of British Summer Time.
| Session | Day | Session time (BST) | Session time (CEST) |
| --- | --- | --- | --- |
| Free practice 1 | Friday | 13:00 – 14:00 | 14:00 – 15:00 |
| Free practice 2 | Friday | 16:00 – 17:00 | 17:00 – 18:00 |
| Free practice 3 | Saturday | 12:00 – 13:00 | 13:00 – 14:00 |
| Qualifying | Saturday | 15:00 – 16:00 | 16:00 – 17:00 |
| Race (52 laps) | Sunday | 14:00 – 16:00 | 15:00 – 17:00 |

Hungarian Grand Prix session times
Hungarian Grand Prix weather report
According to AccuWeather, it's going to be a mixed weekend in Budapest. Expect showers on Saturday, and the prospect of an exciting qualifying session. Expect a dry day on Friday and Sunday for the main event: the Hungarian Grand Prix.
BUDAPEST WEATHER
Race support at the Hungarian Grand Prix
There will be plenty of on-track action to keep fans entertained at the Hungaroring. Three support series will take to the track across all three days of the event. W Series will be back in action, as will Formula 2 and Formula 3.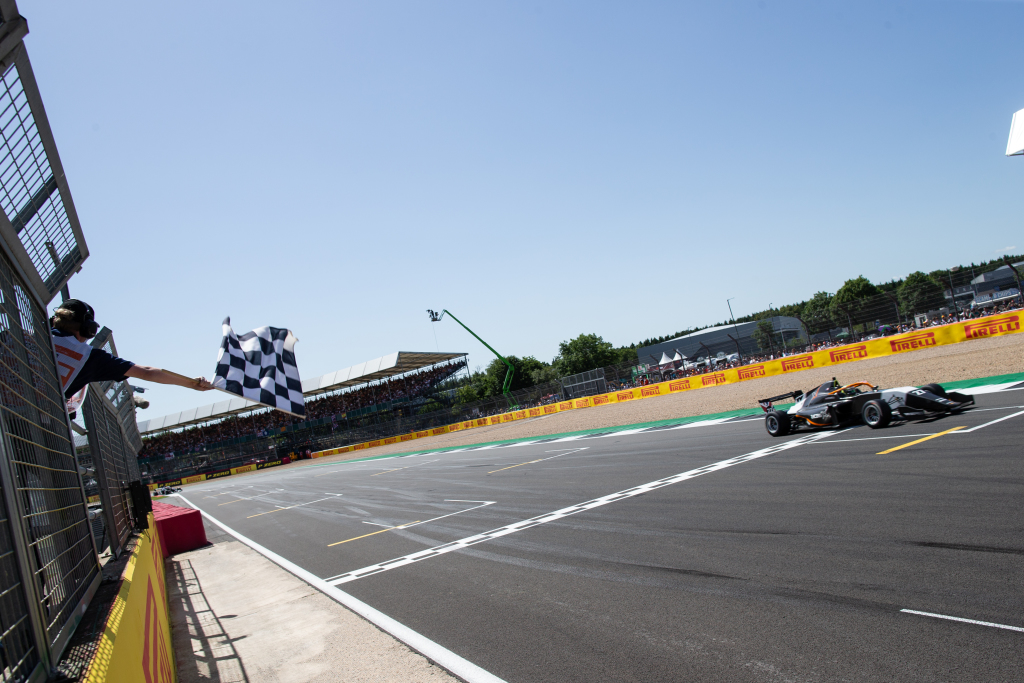 W Series
Jamie Chadwick is running away with the W Series title. Victory at Le Castellet means she has now won all five races in the opening four rounds. The series moves into its second half with just four races remaining, and the reigning champion on maximum points. Check out our article on W Series to find out more about the championship.
| Session | Day | Session time (BST) | Session time (CEST) |
| --- | --- | --- | --- |
| Practice | Friday | 10:50 – 11:20 | 11:50 – 12:20 |
| Qualifying | Friday | 18:25 – 18:55 | 19:25 – 19:55 |
| Race (30 minutes + 1 lap) | Saturday | 13:40 – 14:15 | 14:40 – 15:15 |
W Series session times at the Hungarian Grand Prix
FIA Formula 2
Felipe Drugovich continued his charge to the F2 title in France. He missed the podium, but closest contended Theo Pourchaire was only able to make up a single point on his 40-point lead. That doesn't mean it couldn't all turn around in Hungary, where overtaking takes huge amounts of skill and precision.
| Session | Day | Session time (BST) | Session time (CEST) |
| --- | --- | --- | --- |
| Practice | Friday | 09:40 – 10:25 | 10:40 – 11:25 |
| Qualifying | Friday | 17:30 – 18:00 | 18:30 – 19:00 |
| Sprint race | Saturday | 17:00 – 17:50 | 18:00 – 18:50 |
| Feature race | Sunday | 10:35 – 11:40 | 11:35 – 12:40 |
F2 session times at the Hungarian Grand Prix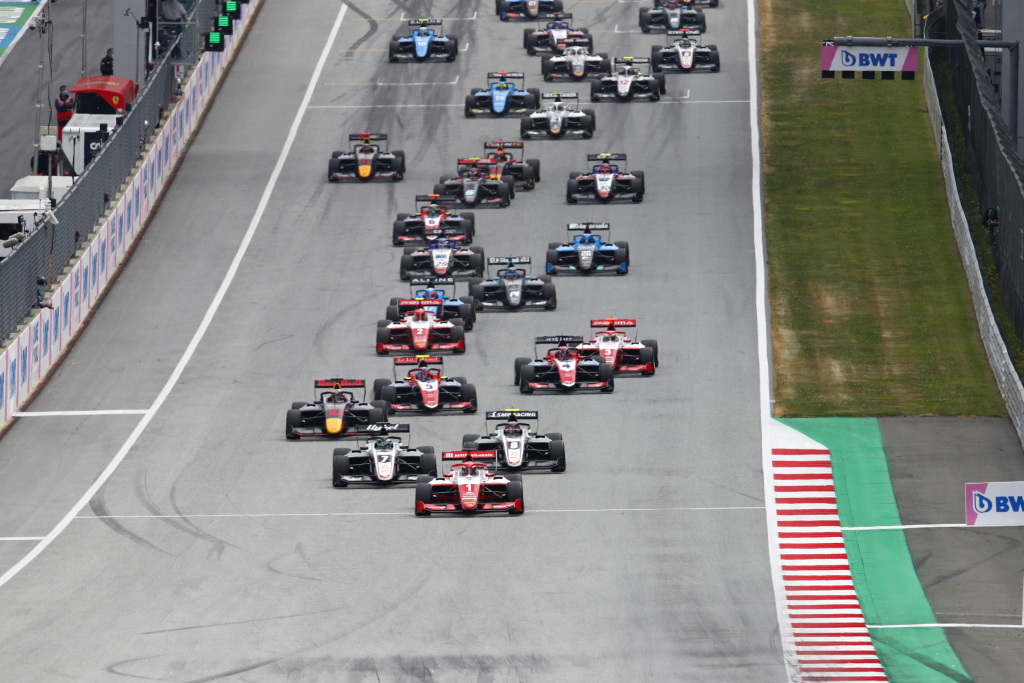 FIA Formula 3
It's as tight as it gets at the top of the FIA Formula 3 championship. Just seven points separate leader Victor Martins from Hadjar and Leclerc at the top of the standings. There are just four rounds left for a driver to make their mark on the championship, making this round in Hungary crucial.
| Session | Day | Session time (BST) | Session time (CEST) |
| --- | --- | --- | --- |
| Practice | Friday | 08:30 – 09:15 | 09:30 – 10:15 |
| Qualifying | Friday | 14:30 – 15:00 | 15:30 – 16:00 |
| Sprint race | Saturday | 10:00 – 10:45 | 11:00 – 11:45 |
| Feature race | Sunday | 16:55 – 17:40 | 10:05 – 10:55 |
F3 session times at the Hungarian Grand Prix
The Hungarian Grand Prix Circuit
Hungaroring
The Hungaroring was built in 1985 after a Hungarian friend of Bernie Ecclestone convinced him Budapest should host a race over the USSR. Originally planned as a street race, the government built this circuit just outside the city in eight months, and it is now the third most-visited tourist attraction in Hungary.
It's a high-speed and flowing circuit with very few hard braking zones, but it makes for a sensational race track. Look out for the looping hairpins at either end of the start-finish straight, and the fast, sharp chicane at turns 6 and 7.
For a taste of what to expect, check out this Italian Formula 4 Championship race at the Hungaroring from 2019, courtesy of Motorsport.tv. It will showcase the same type of car as used in W Series on race weekend.
What happened at the last Hungarian Grand Prix?
Hungarian Grand Prix 2021
The 2021 event was one of the most extraordinary Grands Prix in modern memory. It was an encapsulating race that had it all: rain, crashes, disqualifications, overtakes, defending… and at a circuit many dismiss as 'boring'.
The action began in the clouds – the rain came down and forced all the drivers to start the race on the intermediate tyres. A chaotic start exploded when Valtteri Bottas rammed Lando Norris, setting off a chain reaction. Both Red Bull cars took a hit, as did Charles Leclerc and Daniel Ricciardo. The red flag was flown, with Hamilton in the lead from Ocon.
Upon the return to the grid, it became apparent the track had completely dried. Rather than taking to the grid, every driver pitted to move onto the dry tyres. Every driver except Lewis Hamilton, who took the start completely alone. He would trundle around the track on wet rubber as the rest of the field steamed ahead with new tyres.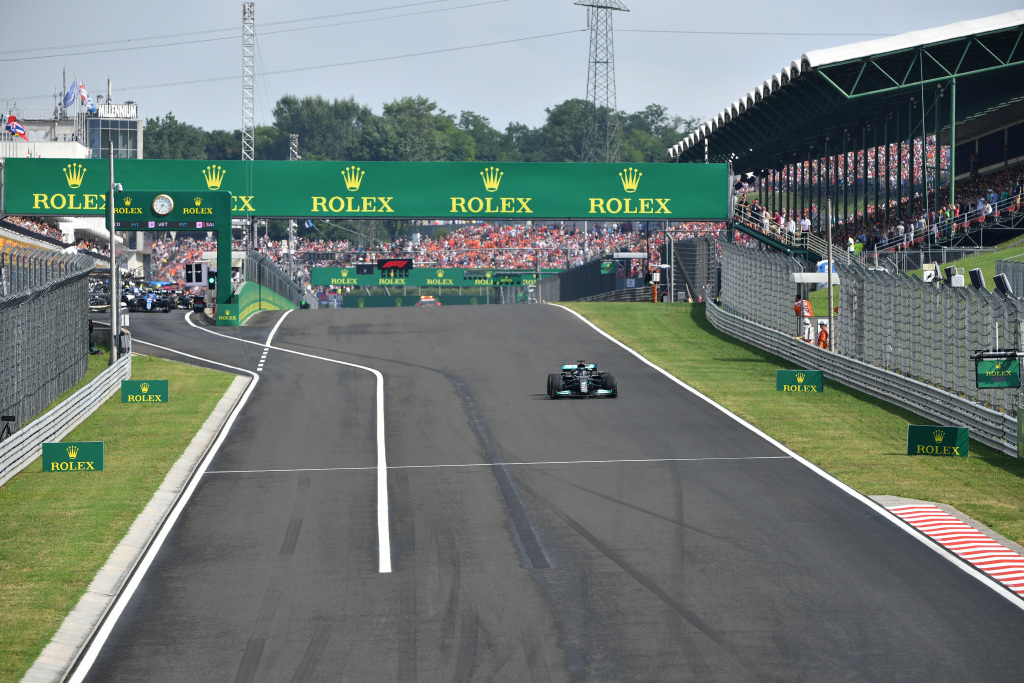 George Russell momentarily looked to have pulled a masterstroke and led the pack in his Williams by jumping them in the pits. But when he was ordered to return the positions, Esteban Ocon inherited the lead, followed by Sebastian Vettel.
The former world champion chased the Frenchman, who had never won a race. An epic battle ran the duration of the race, with Ocon holding off the Aston Martin driver. But never write off Lewis Hamilton.
From the back of the field and 20 seconds off last place, he strolled past every car – until he hit a Fernando Alonso-shaped wall. The Alpine driver and Hamilton's former teammate defended with all his might to help protect his current teammate leading the race. Without this stout defence, Hamilton would have surely gone on to take the win.
But he didn't. Esteban Ocon crossed the line less than a second before Vettel took his maiden victory in Formula 1. A valiant Hamilton battled to third, and when Vettel was hit with a shock disqualification for fuel violations, was elected to second. Carlos Sainz was promoted to third.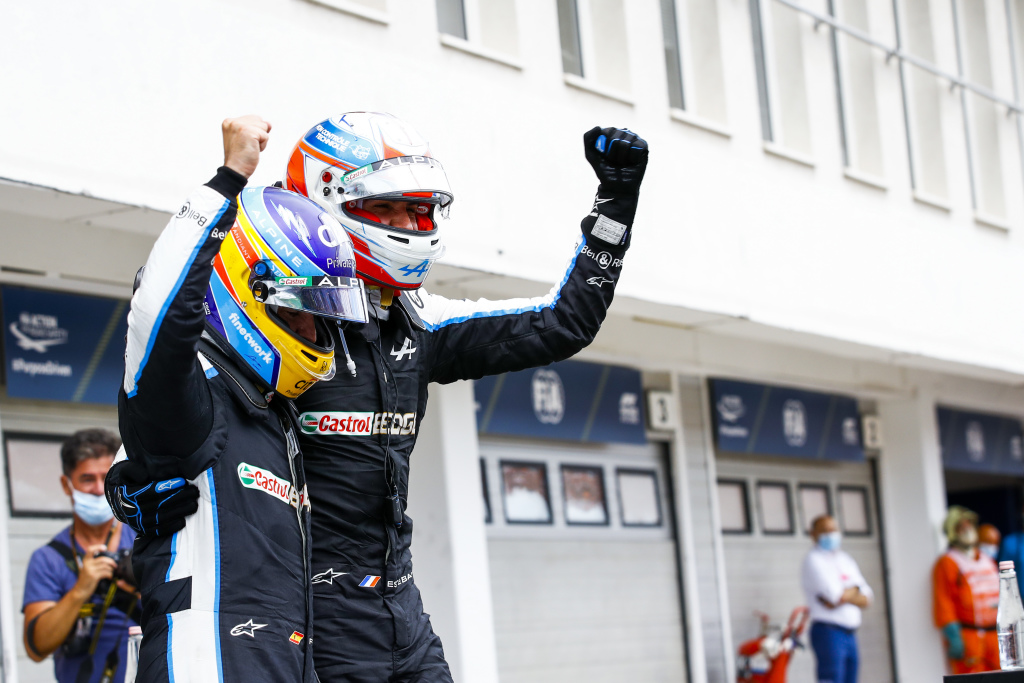 How to stay up to date at the Hungarian Grand Prix
You can keep up-to-date across all the breaking news by following Motorsport.com throughout the race weekend.
And after both qualifying and the race, Autosport's top brass will join host Ariana Bravo to review all the top talking points. Check out the latest episode of the Autosport Podcast below, and subscribe wherever you get your podcasts.