A guide to the Deutsche Tourenwagen Masters (DTM) including drivers, teams, circuits, rules and cars used, plus ticketing information.
The DTM has proved to be one of the world's leading touring car championships. In recent years, it has veered away from traditional touring car racing, but with the introduction of more affordable GT3 cars and attracting some mega names in motorsport, it doesn't fail to deliver on action.
With great racing across Germany and Europe, and two exciting races per weekend at some of the greatest circuits in the sport, it's a series serious racing fans should pay attention to. Talent has risen through the ranks of the DTM, and it's on a course that will only provide more competitive, closer action in seasons to come.
In preparation for the new season, get up to speed on what DTM is, including who you can expect to see racing, what cars will be in action, and where they will be racing.
When you're ready, head over to our dedicated DTM ticket page for the latest information to get you to an exciting weekend of GT racing.
Guide to DTM for beginners
What are the DTM cars like?
In 2021, DTM began a new era when it transitioned to the FIA GT3 regulations. The thinking behind this was to attract more customer teams to the sport, after Audi Sport announced they would not be entering a car after the 2020 season.
Fifty-two cars have passed the FIA's homologation process, and are eligible to race in the series. In 2022, six different cars raced by the teams:
Audi R8 LMS Evo II: Team Abt Sportsline; Team Rosberg
BMW M4 GT3
Ferrari 488 GT3 Evo 2020: AlphaTauri AF Corse; Red Bull AF Corse
Lamborghini Huracan GT3 Evo: GRT Grasser Racing Team
Mercedes-AMG GT3 Evo: Mercedes-AMG Team Winward; Mercedes-AMG Team GruppeM Racing; Mercedes-AMG Team HRT; Mercedes-AMG Team GetSpeed; Mercedes-AMG Team Mucke Motorsport
Porsche 911 GT3 R: KUS Team Bernhard; SSR Performance.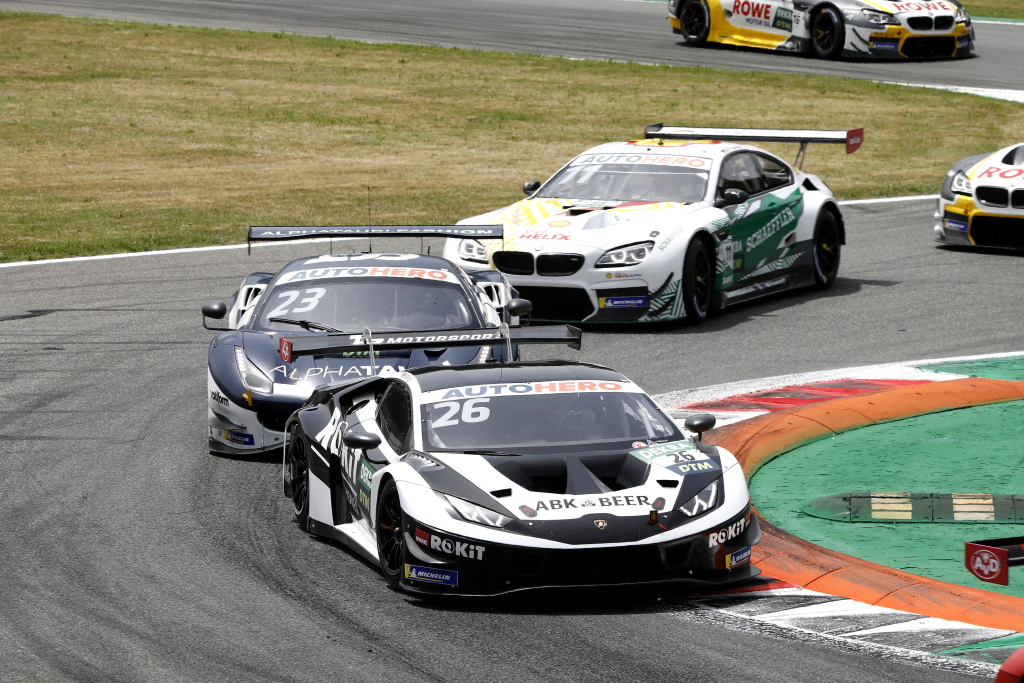 These cars are designed to be 1200 – 1300kg, with power between 500 – 600bhp. There is also a Balance of Performance system in place, which adjusts the parameters of the cars to ensure there is performance consistency between the cars.
Success ballast is also used in the series, which aims to hamper the performance of a race's top three finishers. If you win a DTM race, you will be forced to take on 25kg of extra weight for the next race. The second-place finisher will take on 18kg, and third-place will take 15kg.
Where do the races take place?
The DTM may be Germany's domestic racing series, but it tours across some of Europe's most iconic circuits. In 2022, races will take place at Spa-Francorchamps, Red Bull Ring, Imola and the Algarve International Circuit.
Recent seasons have seen the series race at Monza, Assen, Zolder, Brands Hatch, Misano, Zandvoort, Hungaroring and Moscow Raceway.
Back in Deutschland, DTM races at some of the country's premier racing circuits. Formula 1 fans will be familiar with the Nurburgring and Hockenheimring, which have both hosted the German Grand Prix.
Elsewhere in Germany, the Norisring street circuit, which was originally used for bike racing in the 1950s, has hosted races since 2000. The EuroSpeedway Lausitz in Brandenburg – close to the Czech and Polish borders – a great, varied circuit ideal for testing both drivers and cars.
| Date | Circuit | Tickets |
| --- | --- | --- |
| 29 April – 1 May | Algarve International Circuit | Tickets |
| 20 – 22 May | EuroSpeedway Lausitz | Tickets |
| 17 – 19 June | Imola Circuit | Tickets |
| 1 – 3 July | Norisring | Tickets |
| 26 – 28 August | Nurburgring | Tickets |
| 9 – 11 September | Circuit de Spa-Francorchamps | Tickets |
| 23 – 25 September | Red Bull Ring | Tickets |
| 7 – 9 October | Hockenheimring | Tickets |
The 2022 DTM calendar
What does a DTM weekend look like?
Every DTM race weekend is action-packed, with two races at each venue. Two practice sessions are held on Friday with one morning and one evening session. Then, both Saturday and Sunday will see a morning qualifying session, and an afternoon race.
Rather than a specified distance or number of laps, DTM races run for a pre-defined amount of time like the World Endurance Championship or Formula E. Every race lasts 55 minutes, plus one complete lap. That means the first time the leading car crosses the finish line once the time is up, they will begin the final lap of the race.
| | |
| --- | --- |
| Friday | |
| Free practice 1 | 12:15 |
| Free practice 2 | 15:15 |
| Saturday | |
| Qualifying 1 | 10:15 |
| Race 1 (55 minutes + 1 lap) | 13:30 |
| Sunday | |
| Qualifying 2 | 10:00 |
| Race 2 (55 minutes + 1 lap) | 13:30 |
A sample DTM weekend timetable
DTM also runs several secondary series that support the main event. These include the DTM Classic Cup and Classic DRM Cup, which invites drivers of the past from DTM and its predecessor Deutsche Rennsport Meisterschaft to battle on track.
The DTM Trophy also provides a platform for young drivers to refine their GT racing skills.
From 2023, the series will go electric by introducing a brand-new car. Unveiled at the 2021 season finale, the series will herald a new era of GT racing.
Which teams race in the DTM?
In 2020, only two manufacturers were competing: Audi and BMW. Audi ran four teams, while BMW had three teams and provided a car to privateer team Orlen Team ART for Robert Kubica to race.
However, at the end of the season, both Audi and BMW indicated they would no longer enter teams into the series, but act as privateer manufacturers to customer teams.
The change to GT3 cars did make it more affordable for customer teams to enter, and saw an influx of entrants. Sixteen teams entered at least one round in 2021, with cars from seven different manufacturers entering. These included Mercedes-Benz – which was returning to the series – and debutants Ferrari, McLaren and Lamborghini.
It's a similar situation in 2022, with most teams returning for another season. These include a few familiar names. AlphaTauri and Red Bull enter the series, with junior team drivers Alex Albon and Liam Lawson racing for the former team in 2021. Team Rosberg -founded by Formula 1 champion Keke Rosberg – also field a Mercedes in the championship.
Who are the DTM drivers?
DTM attracts top driving talent from across the world, many go on to fight for world championships in subsequent series.
Here is a list of racers you might recognise from other series, and the years in which they raced in the DTM:
Alex Albon (2021): Formula 1
Christian Klien (2021): Formula 1; WEC
Robert Kubica (2020): Formula 1; WEC
Robin Frijns (2018 – 2020): Formula E; WEC
Timo Glock (2013 -): Formula 1
Jake Dennis (2019): WEC; Formula E
Paul di Resta* (2007 – 2010; 2014 – 2019): WEC; Formula 1
Andrea Dovizioso (2019): MotoGP
Pietro Fittipaldi (2019): Formula 1; Indycar
Rene Rast* (2016 – 2020): Formula E, IMSA, WEC.
Pascal Wehrlein* (2013 – 2015, 2018): Formula 1; Formula E
Edoardo Mortara (2011 – 2018): Formula E
Tom Blomqvist (2015 – 2017): IMSA, WEC, Formula E
Gary Paffett* (2003 – 2018):Formula E
Esteban Ocon (2016):Formula 1
António Félix da Costa (2014 – 2015): Formula E; WEC
*denotes DTM champion