From Silverstone to Singapore, Assen to the Americas, let us be your guide to the 2023 MotoGP season
The MotoGP 2023 calendar has been released, the Grand Prix tickets are already selling, and Portimao MotoGP Official Testing is just around the corner. The engines start in Portugal Sunday 12 March for testing, and the first race begins two weeks later on 26 March.
MotoGP tickets increasingly in demand
With the meteoric rise of motorsports in recent years, 2023 is set to be another exponentially popular season for watching live MotoGP, so make sure you stay updated by signing up to our mailing list at the top of your screen.
If you're new to this thrilling sport, then you're in the right place, the 2023 MotoGP season is going to be unlike any other. But if you're looking for our top recommendations for this season, then witnessing live the Sachsenring's iconic 'Waterfall' corner at the German Grand Prix, visiting the 'Cathedral of Speed' of Assen, for the Dutch TT Assen round, and lapping up glorious Italian sunshine during the Italian Grand Prix at the legendary Mugello Circuit are high on the list of our top tips.
MotoGP Calendar 2023
Which MotoGP races have caught your attention this year? We put together this handy MotoGP 2023 calendar – feel free to download or screenshot it – so that you don't miss a race, and get planning your trips.
First stop – Portugal!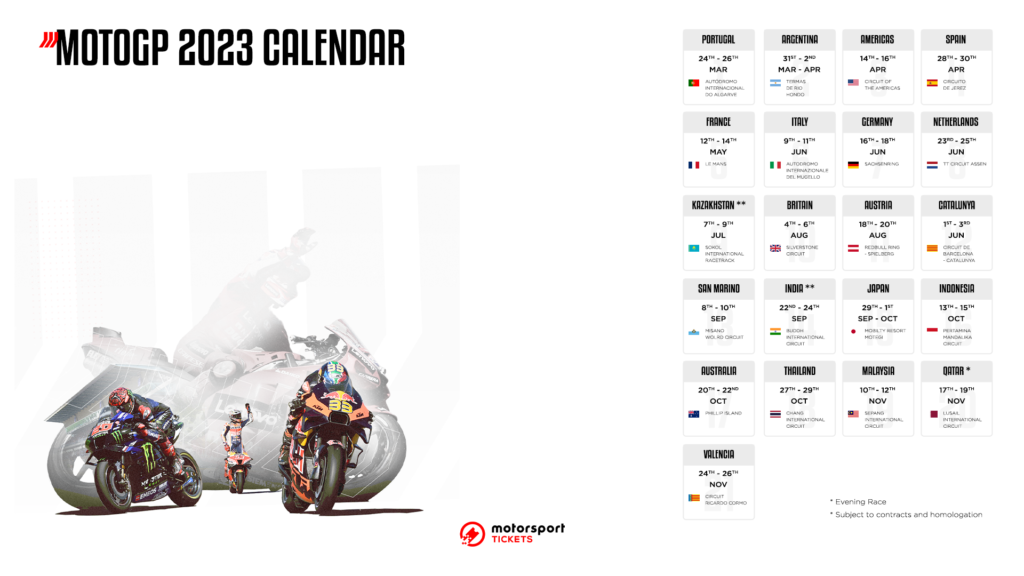 5 reasons to be excited for MotoGP 2023
1) Year of the Sprint
2023 will see the launch of the first sprint races to feature in MotoGP, and there are no half measures here – every single one of MotoGP's record-breaking 21 Grand Prix this season will feature a sprint race. That's a whopping 42 races in a single year! The weekend schedule will change a little so make sure you're up to date on the MotoGP sprint race format.
2) Make or break for Marc Marquez
Marc Marquez dominated the MotoGP scene for years and swiftly rose to stardom across the world. The Spanish eight-time world champion's fortunes have changed in recent seasons after being blighted by injury. Marquez, who has just released a new documentary, All In, on Amazon Prime, will be desperate to regain his place on the podium, and leading the pack.There are many who think he's still got what it takes…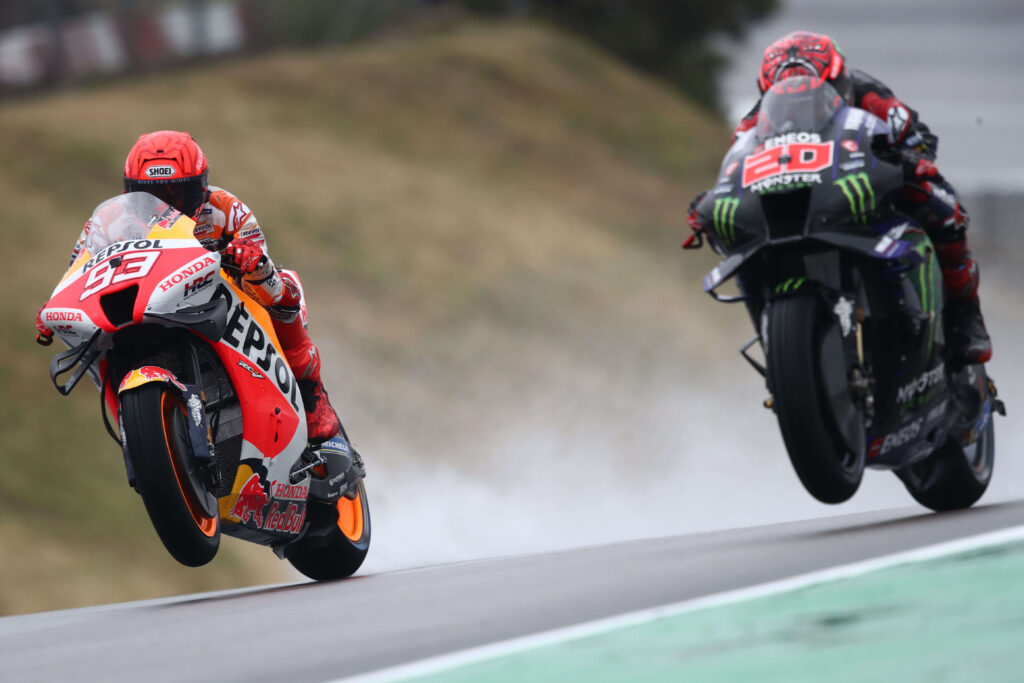 3) Italy fighting to retain world title
There are few countries whose passion for motorsport match up to that of Italy. The long wait for a world title came to an end thanks to Ducati's Francesco Bagnaia who won his first World Championship in 2022, the first Italian to do so since Valentino Rossi in 2009. The 2023 season will be a crucial one for MotoGP's most successful nation, as not only will Mugello host a Grand Prix, but neighbouring San Marino too.
4) Classic race tracks
If a race day Silverstone has been gathering dust on your bucket list, then this is the year to make the dream a reality. The Year of the Sprint will see MotoGP return to many of the most renowned and thrilling tracks in motorcycle racing, including fan favourites Germany, Netherlands and Italy, as well as some exciting newcomers…
5) Two new MotoGP destinations
You may have spotted that there are two debutant race tracks in the MotoGP 2023 calendar: Kazakhstan and India. MotoGP has never landed in these nations before, so it could be an historic opportunity to test drive a new track. The Kazakhstan GP will take place 7-9 July and the Indian GP will be 22-24 September. Sign up here to be notified when tickets go on sale.
The MotoGP 2023 season is just around the corner, and with some races already selling out, waiting too long to book your 2023 MotoGP 2023 tickets may prove costly. Which races will you attend this yea