Want to win a two-day VIP experience to the Festival of Speed? Simply buy your motorsport tickets with a Mastercard to be entered into our competition.
Mastercard are offering an amazing once in a lifetime experience for two.
An all-expense experience at the Goodwood Festival of Speed could be yours. To be entered into the draw all you need to do is buy tickets to any Motorsport Tickets product with a Mastercard before 26 May 2023 – it's that simple!
What you could win
There are two prizes up for grabs, both for two people.
First Prize: 2 Day VIP Sponsors' Enclosure Package (Double)
The winners will enjoy a two-day adventure, which includes everything from luxury meals and accommodation to your own dedicated host.
The package also includes entry to the VIP Sponsor' Enclosure, a guided Paddock Tour and transfers to and from the event to and from the local station.
Runner-Up Prize: 1 Day VIP Sponsors' Enclosure Ticket Only (Two Tickets)
The second prize available in our giveaway is a one-day ticket to the Goodwood Festival of Speed, with entry into the VIP Sponsors' Enclosure.
Also included is a meet & greet, as well as a transfer to and from the local station or parking at the event.
About Goodwood Festival of Speed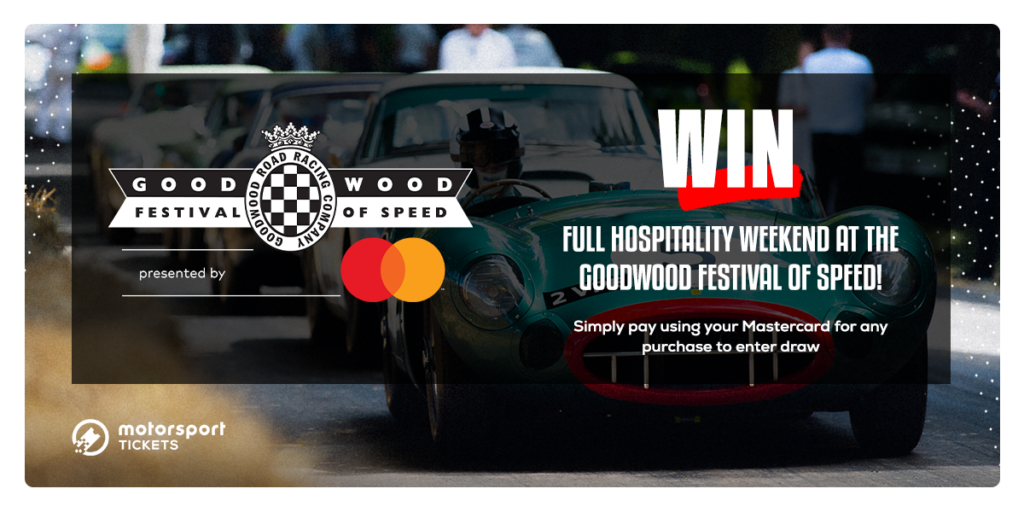 Mastercard presents motorsport's ultimate summer garden party, an exhilarating celebration of the world's most glamorous sport.
This is the ultimate motorsport festival, held at one of England's most impressive manor houses. Dubbed as the world's greatest celebration of motorsport and car culture, the Festival of Speed is held in the beautiful parkland surrounding Goodwood House.
Nowhere else will you get so close to the cars and bikes as they blast up the hillclimb track. Nowhere else will you enjoy such unrestricted access to the machines and the drivers who made them famous.
Entering the competition couldn't be simpler – just use your Mastercard to purchase tickets to a motorsport event on Motorsport Tickets before 26 May 2023.