A step-by-step guide to booking Formula 1 tickets and arranging a trip to a Grand Prix including tickets, travel and accommodation
If you're a fan of F1 and have spent hours watching races on TV, the chances are you've thought about booking Formula 1 tickets to see the action live.
There are some things you don't get a sense of from solely watching a race on television: the sheer speed of the cars, the smells and sounds of the racetrack, the buzz of the crowd and the atmosphere of a Grand Prix weekend are things you can only experience trackside.
But starting the planning process for booking an F1 Grand Prix trip can be daunting. Which race should you go to? Which ticket should you book? How are you going to get to the race? And where are you going to stay?
If you're feeling a bit lost when it comes to booking Formula 1 tickets, you've come to the right place. This handy guide will take you through every aspect of arranging a Grand Prix trip.
How to decide which Formula 1 tickets to book
Formula 1 is set to host 22 races across the world in the 2023 season, racing on five different continents around the world. That number was reduced from 24, following the cancellation of the Chinese Grand Prix due to the ongoing Covid-19 crisis. Dangerous weather conditions wreaked havoc in Italy in May, which saw the Grand Prix at Imola also cancelled.
But 22 is still a number which offers plenty of exciting opportunities to combine your passion for the sport with travel to incredible, once in a lifetime places. Some people are lucky enough to have F1 Grand Prix on their doorsteps, and others have to (or choose to) travel far an wide to follow Formula 1. Here, we examine what you should consider in both instances.
Staying local
Many fans will regularly look to attend a race in their country, or one nearby. The British Grand Prix attracts hundreds of thousands of fans, many of whom are British F1 fans. Similarly, there is a traditionally strong Dutch contingent at the Belgian Grand Prix, which was the closest race before the reintroduction of Zandvoort.
And for most racing fans, their national race will hold a special place in their heart. They are integral pieces of a nation's motorsport history and a chance to cheer on the home drivers and teams.
The benefits here are pretty obvious: the travel and accommodation costs are kept to a minimum. You might even be able to stay at home between sessions. After all, there's nothing like your own bed after a long day at the circuit.
You also won't have to worry about particularly long journey times to the destination, although traffic will likely be extremely congested. Those travelling from hotels on public transport or camping near the track will spend less time travelling throughout the weekend. This allows them more time to enjoy the culture, get in the mood for the day's sessions, or catch up on much-needed sleep.
Going abroad
Motorsport culture is rich across the globe, and every circuit has its own character, history and atmosphere that must be experienced to be understood.
Between race sessions, you'll have opportunities to explore local areas. Head to Monza and you'll be able to spend time in Milan and feel the buzz of Ferrari's famous Tifosi fans. In Singapore, not only will you experience a unique culture, but your ticket gets you access to one of the city's biggest concerts of the year with world-famous acts. Any of the five races in North America are in cities rich and very contrasting character: Austin, Miami, Las Vegas, Mexico City, and Montreal.
That's why many fans will book extra days for their trip to allow for more time to get to know the local area and make even more memories.
Travelling further afield also allows you to discover some classic racing circuits from across the globe, such as Suzuka in Japan, Albert Park in Australia and Interlagos in Brazil.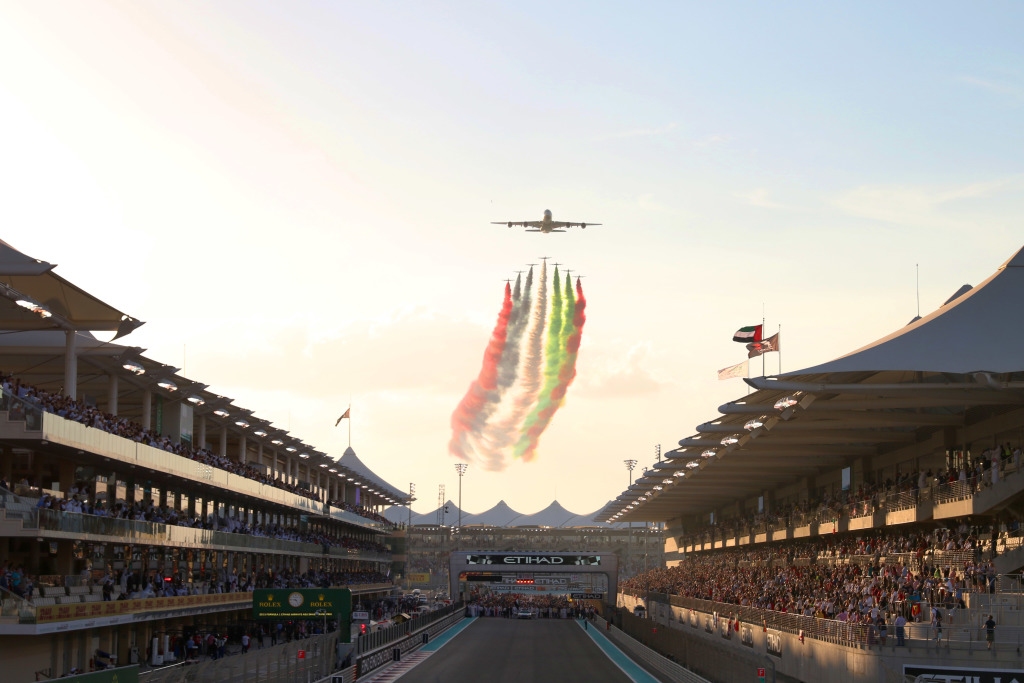 Choosing which Formula 1 ticket to buy
Formula 1 circuits are not like football stadiums or sports arenas. Tracks can stretch up to 7km in length and span huge areas. Alternatively, they may be nestled between tight streets in urban areas. Both instances lend themselves to a long list of ticket types, from grandstand levels to general admission access. At the other end of the scale, hospitality packages are offered at most races, too.
We've broken down the different ticket types so you can be sure you're booking the right F1 ticket for you.
Grandstands vs. General Admission
General Admission tickets are a popular option for fans looking for cost-effective Formula 1 tickets.
They grant you access to the circuit and designated areas where you can roam and view the race from your preferred vantage point. This gives you the freedom to explore the track and decide exactly where you want to watch the race.
Bear in mind that you will be on your feet all day unless you bring a pop-up chair or complimentary seating is provided depending on the track. However, many tracks allow all ticketholders to sit in grandstands on Friday when the circuit is generally less busy.
These areas are typically uncovered, so you'll be at the mercy of the elements, and they get busier on race day. You can be tactical about securing the best spots by scoping them out on a Friday and Saturday to beat the crowds on Sunday.
By contrast, grandstand tickets guarantee you a designated seat all weekend. You can still roam the general admission areas, but you'll have a seat with your name on it.
Some – but not all – grandstands are covered, offering protection from rain or intense sunshine. While they're located throughout the circuit, big-screen TVs are generally placed in front of grandstands for fans to keep up to date.
They are more expensive than General Admission tickets, but the packed grandstands will tell you they're worth the money.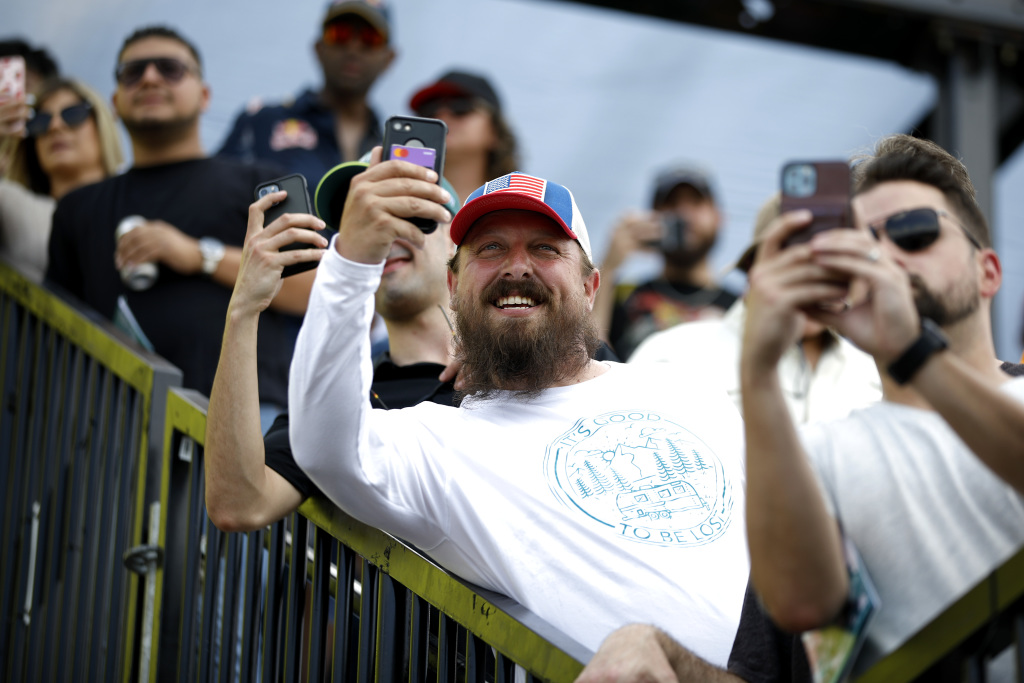 Why do F1 grandstand tickets cost different amounts of money?
Like any sports match or music performance, the price of Formula 1 tickets might differ depending on where you sit.
In areas where lots of action can be expected, such as the starting grid or first corner, tickets might be more expensive than a stand in the middle of a straight. The logic here is that you're more likely to see race-defining moments from these seats.
Usually, tickets around the starting grid and first corner are some of the most expensive – but they are special locations. From the main grandstands, you'll see the pit lane, the hubbub of the grid pre-race, the roar of the engines off the line at the start, and (usually) the podium celebrations after the race.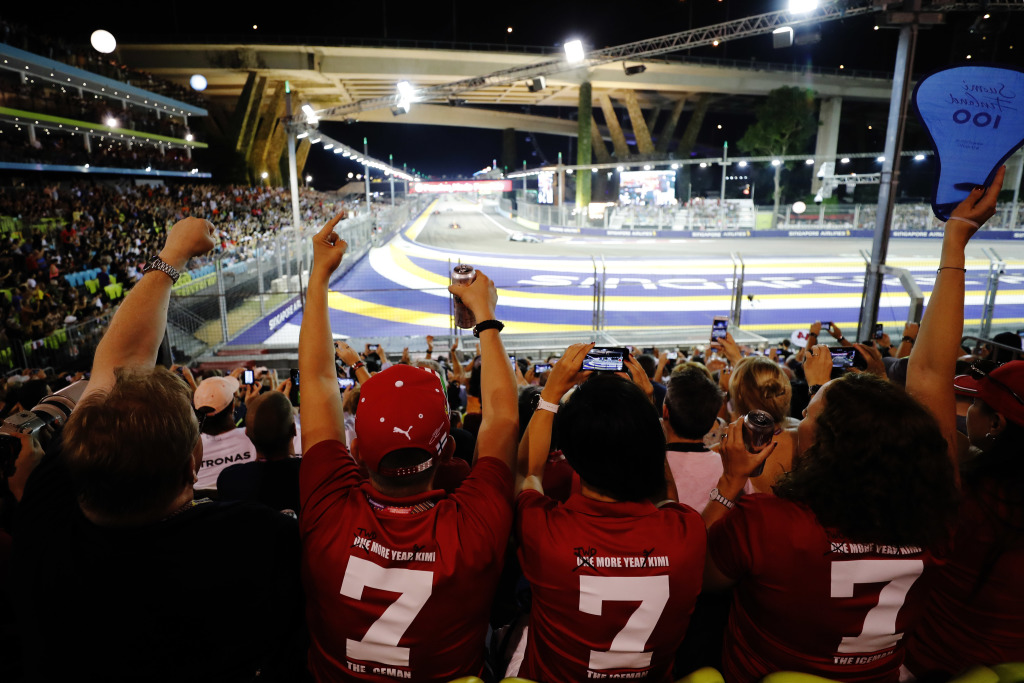 That's not to say other grandstands aren't worth the money. At most tracks, there are key overtaking opportunities across the lap, and cars usually reach their mind-blowing top speeds elsewhere from the main straight.
Tracks like Spa-Francorchamps in Belgium will title their grandstands 'Gold', 'Silver', and 'Bronze' which makes it simple to differentiate between these stands. For other tracks, you can see the description of the grandstand and a view of a circuit map to judge the price of the ticket against what you will get.
Wherever you sit, all grandstands offer a great atmosphere to watch the race. Thousands of fans will be in your vicinity living through the highs and lows of racing together.
Upgrade to Hospitality?
Some fans look for an extra piece of luxury when booking Formula 1 tickets. Images of fans enjoying glasses of champagne from terraces paint a premium picture of the Grand Prix experience.
Fans looking to take the plunge into hospitality options might be surprised to learn that there are several different options at each race for hospitality tickets.
The brand most will be familiar with is F1 Paddock Club. This is Formula 1's own hospitality offering and is operational at most races across the world. It's a standardised offering, so you know what you're going to get wherever you are. This includes exclusive viewing positions – usually overlooking the pitlane – champagne bars, gourmet meals, pit lane walks, and track tours.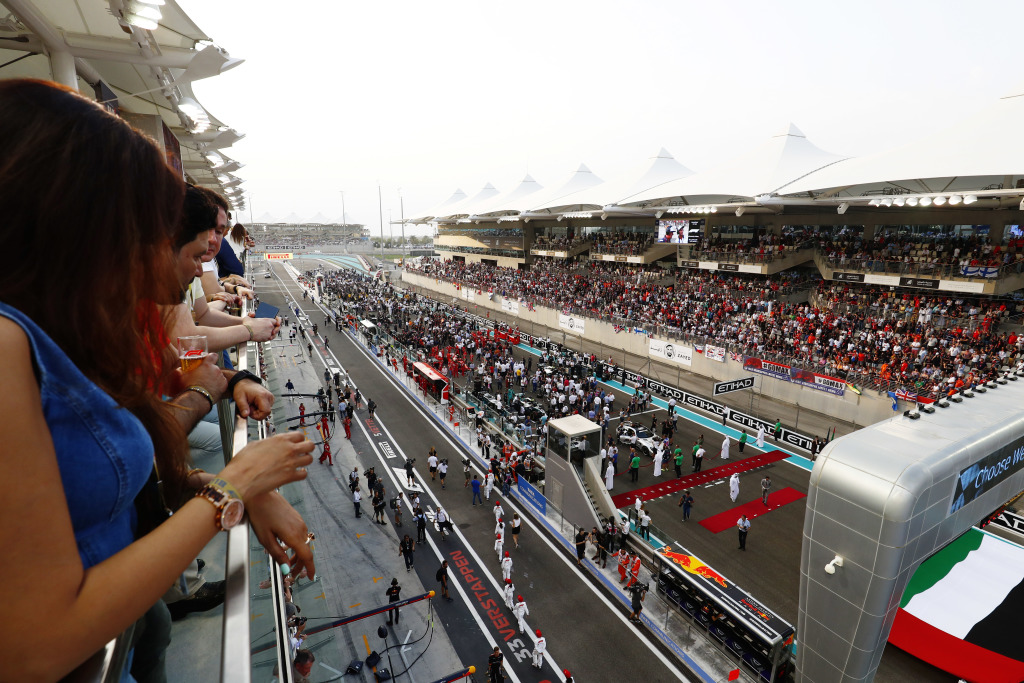 But there are also local options available, where the circuit or partners may have their own offering. This is especially true at a race like Monaco, the jewel in Formula 1's crown. The cars race between the tall buildings of the city, and along the iconic harbour at Monte Carlo.
For this reason, many hotels and hospitality companies will set up lounges for fans to enjoy the race in style.
These offerings might provide a localised offering or unique vantage points, including Monaco's famous yachts. But while Formula 1 Paddock Club offers on-track experiences and often appearances from drivers, you will beholden to the organisers for any entertainment provided with local hospitality.
With Motorsport Tickets, you can view any hospitality options currently available alongside other tickets on any given race's page.
How much do Formula 1 tickets cost?
Depending on which F1 ticket you buy and which race you attend, the prices of tickets differ. For a three-day grandstand ticket, prices range between around £115 and £1,000. General admission Formula 1 tickets range between £90 and £500.
These prices may seem steep, but there are often added extras. For example, in 2022 an general admission ticket to the United States Grand Prix included concerts by Ed Sheeran and Green Day.
We've put together this video guide to the cost of Formula 1 tickets, and how it compares to other sports and entertainment.
When do Formula 1 tickets go on sale?
This question isn't simple to answer. Every event is run independently by a promoter of the Grand Prix. As such, ticketing pricing and policies vary. For some races, tickets will go on sale as soon as they can after the previous year's race. This helps them ride the hype from an exciting race, but means tickets might sell out months in advance.
Other circuits will differ when tickets become available. To stay in the know, we recommend signing up for the Motorsport Tickets newsletter for the latest updates. Or follow us on social media: Facebook, Twitter and Instagram.
Booking your accommodation
Unless you're lucky enough to have a motorsport race within a decent distance of your home, you're going to want to book some accommodation. What is available will very much depend on the race you're attending, but you will generally have the option to camp, stay in a local hotel, or bed and breakfast in a local city.
Camping at the circuit
The most cost-effective way to stay at the race will be to camp. Circuits that aren't street circuits (and some that are) will be surrounded by fields, and many will be transformed into campsites for fans.
This is appealing because it will mean you'll be at the circuit in no time every day. Campers can bring their home comforts, including food and drink, and socialise with other racegoers at the campsite.
It does mean you will usually have to provide your own tent or caravan and pay for an electric or gas hookup. But if you are a seasoned camper, then the chances are you're more than equipped to make the most of this option.
And while the campsites might be further away from local towns and cities you could explore better with a hotel room, campsites have a unique charm. In Austria, hundreds of Dutch fans book into the Camping Pink Premium set-up at the Red Bull Ring. Local food, entertainment, and first-rate facilities are provided, and fans will return year after year.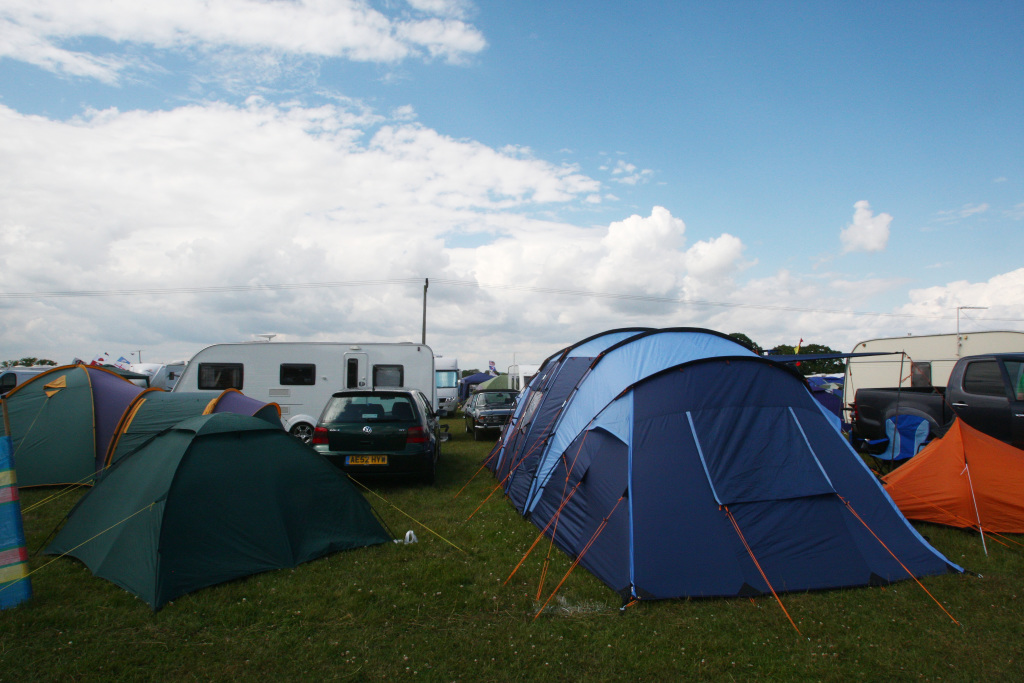 If you're not willing to get set up with camping equipment, fear not. Some sites offer pre-erected tents, chalets, and glamping packages with bedding, showers, and everything you'd need for your weekend.
Staying in a local hotel
For races close to major towns and cities, hotels will be where you'll find most travelling fans with F1 tickets.
Hotels come with all the home comforts you might need after a long day at a racetrack: comfortable bed, warm showers, and a hearty breakfast included. (We recommend making the most of this to fuel up for a long day of walking around the track).
Another advantage of hotels is that they can often be booked in conjunction with flights as part of a package, keeping admin and prices down.
You should factor in local travel, from your hotel to the circuit. This can make up a significant amount of your day but is usually simple in well-connected cities. This also has advantages if you are planning on flying to a race, rather than driving, as you can stay in a hotel close to the airport.
A top tip: make sure you book as early as possible – preferably as soon as you have booked your race ticket and travel arrangements. The closer to race day you book, the more you will pay for your room.
If you are simply staying in town for the race, it might be worth checking websites like AirBnB. You could save money by booking a room or an apartment with just the bare essentials, as you'll be spending most of your time at the track.
Getting to the circuit
Unless you're staying within walking distance of the track, travelling will be a major logistical aspect of your trip. From long-haul flights to road trips through Europe, how you get to the track is completely in your hands. There are a few things you should consider when sorting travel arrangements to a Grand Prix race, which we've laid out here.
Driving to a Formula 1 race
If you fancy yourself as a bit of a handy racer yourself, you'll probably be driving to the track. This puts you in total control of your journey, might be cheaper than flying, and allows you to build a road trip out of your travels.
There are a few things you should bear in mind if you're getting behind the wheel.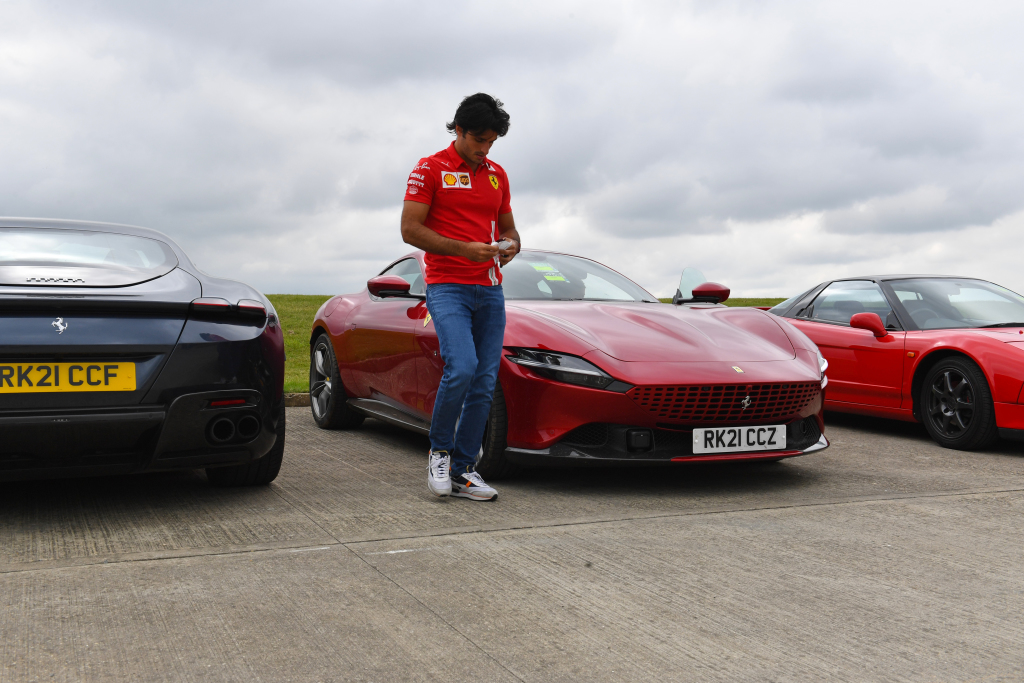 The first is traffic. It will get very congested around the circuit as you approach, as many roads will be closed to allow for traffic. Plot your route in advance, use an app like Google Maps or Waze to monitor traffic, and leave plenty of time for queues.
Once you make it to the track, you'll need to park. Parking at Formula 1 events needs to be arranged before you set off for your journey. You'll likely have to purchase a permit to park our car in car parks at the track, and these will be posted to you. Be sure to arrange this as soon as you have decided to drive, as the car parks might fill up quickly.
Local parking arrangements and park and ride will also be available but vary from race to race.
Flying to a Formula 1 Grand Prix
If you are travelling a long distance to a Formula 1 race, it's likely you'll be flying to the local area.
This is ideal for races located near major cities or street circuits, as your travel time, once you arrive in the city, will be short.
As with accommodation and parking, you should book your flight as soon as you have booked your tickets. Prices will get more expensive the closer to the race weekend you book, as demand grows.
Below is a list of Formula 1 races in 2022, and the closest airport to those cities.
| Race | Circuit | Nearest airport |
| --- | --- | --- |
| Bahrain | Bahrain International | Bahrain International Airport |
| Saudi Arabia | Jeddah Corniche | King Abdulaziz International Airport |
| Australia | Albert Park | Melbourne Airport |
| Emilia Romagna | Autodromo di Enzo e Dino Ferrari (Imola) | Bologna Guglielmo Marconi Airport |
| Miami | Miami International Autodrome | Miami International Airport |
| Spain | Circuit de Barcelona-Catalunya | Josep Tarradellas Barcelona-El Prat Airport |
| Monaco | Circuit de Monaco | Nice Airport |
| Azerbaijan | Baku City Circuit | Heydar Aliyev International Airport |
| Canada | Circuit Gilles Villeneuve | Montréal-Pierre Elliott Trudeau International Airport |
| Great Britain | Silverstone | London Luton Airport |
| Austria | Red Bull Ring | Graz Airport |
| Las Vegas | | Harry Reid International Airport |
| Hungary | Hungaroring | Budapest Airport |
| Belgium | Spa-Francorchamps | Brussels Airport |
| Netherlands | Zandvoort | Amsterdam Schipol |
| Italy | Monza | Milan Malpensa |
| Singapore | Marina Bay | Singapore Changi Airport |
| Japan | Suzuka | Central Japan International Airport |
| United States | Circuit of the Americas | Austin–Bergstrom International Airport |
| Mexico | Autodromo Hermanos Rodriguez | Mexico City International Airport |
| Brazil | Interlagos | Congonhas-São Paulo Airport |
| Abu Dhabi | Yas Marina | Abu Dhabi International Airport |
| Qatar | Lusail International Circuit | Doha International Airport |
Formula 1 races and the closest airport
Using public transport to get to the circuit
If it's available, public transport is a cheap and convenient way to get yourself to the track but is reliant on what's available in your chosen area.
Once you arrive at your accommodation, plot a route to the circuit. If you're staying in a hotel, reception desks will be able to help you with knowledge route-planning apps might not convey, so it's worth asking them.
Train services are often a reliable way of getting to a race but aren't available for every Grand Prix. Shuttle buses might be in operation to get fans to races for a small fee, too.
If you can, book tickets in advance. Some trains will operate on a seat reservation basis and will get booked up quickly.
As part of our service, once you've book tickets through us you will receive one of our Race Readys with insights on the individual tracks, like this one for the 2023 Hungary Grand Prix.
See you trackside!
This guide should be viewed as your starting point for booking tickets to a Formula 1 Grand Prix. Every race is different, so you should take time to research each race you are considering, and go over our Race Ready carefully ahead of the event. But we hope you're inspired to explore the prospect of finding a race that suits you and getting to a circuit soon.
To continue your research, be sure to check out our travel guides and grandstand guides to the races on offer.
If you're ready to embark on your journey, it all starts with that all-important ticket purchase. Click here to discover the Formula 1 tickets currently on offer with Motorsport Tickets.